Experimenting with watercolours
Posted on
Last night I took some time out for 'me time' and went back to my roots with some hand lettering in my journaling Bible after my recent fling with stickers! It was really nice to really focus on things and take my time, just what I needed to help me unwind on Sunday night. Then this morning I decided to be brave and use some watercolours as I see so many others do on Instagram... It was a little hairy at first as the water does make the pages transparent, but it's dried out fine. So I thought I would share my experience with you, just incase any of you fancied some watercolour fun but like me have been nervous too! So here is the process I went through...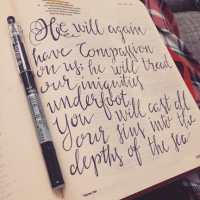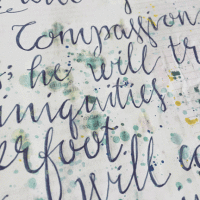 1. Sketching out the lettering last night
2. Inking over the sketched lettering
3. Got my cheap watercolours out of the garage this morning and began flicking paint like a child!
4. Close up you can see the paper has gone transparent – eek!
5. Whilst it's still wet the bleed through looks pretty bad
6. The finished product
7. Bleed through once dry isn't bad, it's just the pen not the paint you can see. Pages are a bit crinkled but will straighten out once the Bible has been closed flat a while I'm sure!
Micah 7:19 [ESV]
He will again have compassion on us;
he will tread our iniquities underfoot.
You will cast all our sins
into the depths of the sea.
If you have any questions about my journaling Bible check out the info page and gallery hereand for info on my journaling Bible supply giveaway over Lent see here and search previous posts for update on what's in the stash so far…