Bible Journaling Series, Rebecca
Posted on

So I explained why I wanted to do this Bible journaling series earlier this week, and I am kicking off the series by answering the ten questions I shall be asking everyone, as it seems unfair to subject people to them without answering them myself!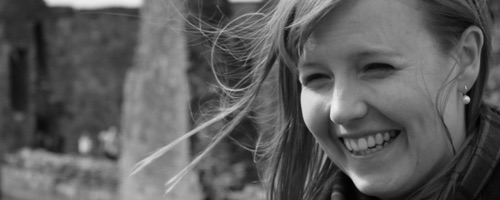 Share a bit about yourself, who you are – your back-story... I am blessed to say I grew up in a Christian family and have always known Jesus in my life, I'm a wife and mum who loves to sew, bake & create, almost as much as I love the Lord! And you probably know me as the face behind Grace and Salt ink, which is a business that has developed from my passion for reading the word and engaging in creative worship with my journaling Bible.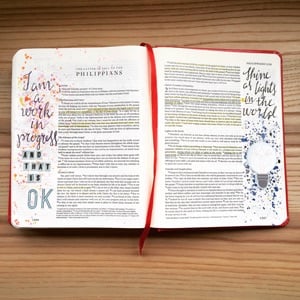 How did you discover / start using your journaling Bible for creative worship? In September 2014 I was on Instagram and came across a photograph of a Bible that appeared to have a large space down the outside edge of the page, which had been filled with scrapbooking materials to create something beautiful with a verse from the page. When I read the comments I discovered that it was a journaling Bible, when I googled that I came across an amazing blog where someone was doing similar - going to town with paint, stamps, stickers, die cuts and pastels to turn Bible pages into amazing pieces of creative worship. I was sold on the idea instantly and went straight to see if I could find a journaling Bible in the UK. I have often wanted to underline and highlight in my Bible but always been scared to, it seemed somehow disrespectful. Yet here is a Bible designed specifically for just that, with an extra column for notes – a dream come true!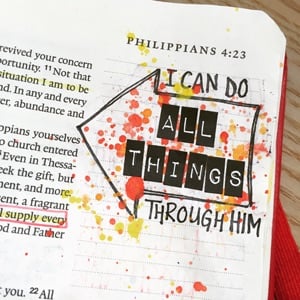 Would you consider yourself a creative person / Are you creative at any other time in the week? Yes, I learned quite young that I wasn't as good as my peers at spelling and time stables (diagnosed dyslexic aged 6), but could draw better than most of them and I enjoyed it - so I focused on developing creativity in myself from a young age, I studied design at university and have worked as a designer, in one form or another ever since.
Do you have a set time of day or in your week set aside for Bible journaling, or does it just happen as and when you can fit it in? When my daughter was younger and used to have two naps a day, morning nap time was always my journaling time. As we dropped her morning nap, journaling time became a little side lined for a while - more "as and when" it fitted in rather than a set time. But I soon realised A) if you want to do something, you need to make time for it, otherwise it will never happen! & B) if I didn't make time for my journaling, and I didn't invest in my faith I soon felt pretty empty and low. So, I make an effort to plan time into my week for reading my Bible and journaling, although that is not always the same time of day.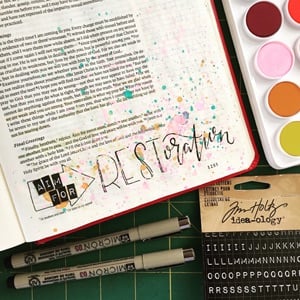 Please can you explain a bit about your process? To start, I usually put on some worship music and pray, once I start reading I tend to read through a full page or chapter first; highlighting/underlining things that I want to specifically remember or really resonate with me. When I reach the end of the page/chapter I will take what has stood out to me most, moved me most, spoken to me most and hand letter it down the full length of the 'notes column'. Or, I will do several smaller 'illustrations' down the page if lots of things have spoken to me. For example in Ephesians there is just SO MUCH goodness on each page, it's hard to choose one thing from a page, so instead I try to cram it all in – and I love these pages full of little details. You don't have to go big, small can be just as effective and impactful.
Why do you draw/paint/stick/letter in your Bible? When Bible apps became available I was really pleased as I could freely highlight and note take without fear of "messing up my Bible" - however about a month before I discovered journaling Bibles my phone needed a factory reset - and with that reset I lost ALL my Bible highlights and notes! All gone. With that heartbreak I decided to turn my back on digital Bibles and go back to paper, discovering journaling Bibles so soon after seemed like a real God moment. The freedom to highlight, note take and create "art" in my Bible really helps me not get distracted and drift off but focus on what I'm reading/studying; as well as it being a creative expression of worship.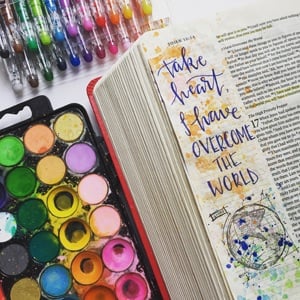 Please could you introduce us to your style? Usually, as I've already mentioned, I letter out a single verse that has really resonated with me, most days I do this in pen and add some paint splatter. Sometimes it may be more of a mixed media style, with alphabet stickers and stamps. At the start I mainly used alphabet stamps or stickers as I felt that was a 'safer' option, less likely to make a mess – but as I grew more confident in what I was doing, I settled into my own style, which is typically more weighted towards hand lettering. The time spent focusing on the verse as I letter, is a time of reflection and meditation on the words, helping them really sink deep into my heart.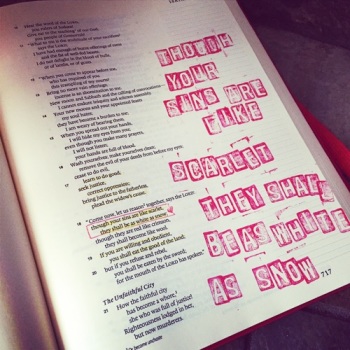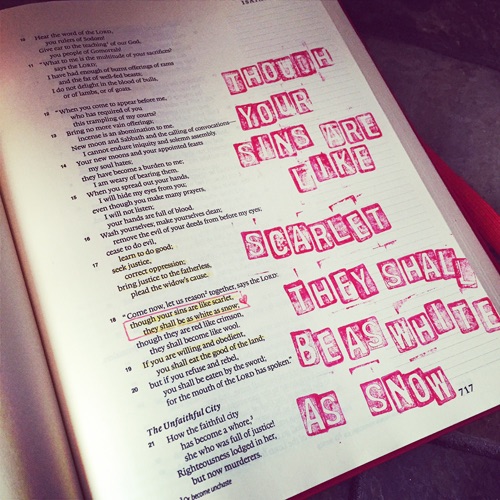 What is your favourite page in your journaling Bible and why? This is a real tough question, so many have such meaning or emotion attached to them! Isaiah 1:18 "Come now, let us reason together, says the Lord: though your sins are like scarlet, they shall be as white as snow; though they are red like crimson, they shall become like wool." [ESV] is a fave, see this blog post to find out why I love this messy page so much…
Also, there are various pages throughout my Bible where I have used my daughters footprints – mainly when she was really young and those pages will forever be so precious, tiny feet and tiny toes!
What are your favourite supplies? See a list of mine here on the Journaling Bible : Supplies & Resources page!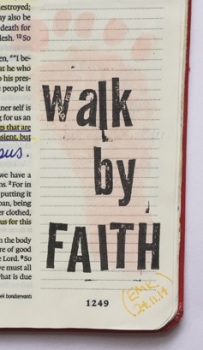 What Advice do you have for new starters, especially those who are scared to start because they are frightened of 'ruining' their Bible? You will not ruin your Bible! It's true, you will probably take a while to find your style, and it may be when you have found it - you will look back and not be so keen on those first pages you did, as you'd do them differently "now". But the meaning and experience behind the page will mean more, so much more, than it looks - see what I said above about Isaiah 1:18! Still not convinced? There are steps you can take to help beat the fear, use a pencil to lay things out first before you use a pen! Use Pilot Frixion pens like I do so you can rub out things you're not happy with / have misspelt etc. Whatever you do, however you do it, just don't let fear stop you starting what could be one of the most revolutionary steps of faith you will ever take for your "quiet time"!