Bible Journaling Series, Neely
Posted on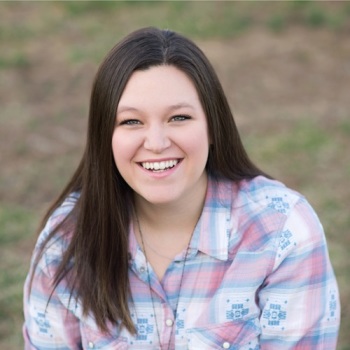 Share a bit about yourself, who you are – your back-story... My name is Neely. I live in Southwest Missouri. I've been a wife for 9 years, a photographer for 8 years and a stay at home mom for 6. I have been a Christian and have believed in God for as long as I can remember, but until about 2 years ago I didn't spend much time with Him. Bible journaling completely changed that for me!
How did you discover / start using your journaling Bible for creative worship? I discovered bible journaling by complete accident! I was kind of at a point in my life where I knew that what I was doing wasn't working…and what I was doing was nothing. I didn't spend any time in the Word, I prayed when I needed something, and I didn't really know God at all. Because of this, I was a very unhappy, anxious, depressed person. I expected God to help me out of the pit, but I wanted Him to do all the work. After reading Ann Voskamp's book One Thousand Gifts, I realized that real change doesn't come without intentionality. After I made this decision, God just kind of sat bible journaling in my lap! I am confident that He knew this is what I needed to spark my desire to seek Him!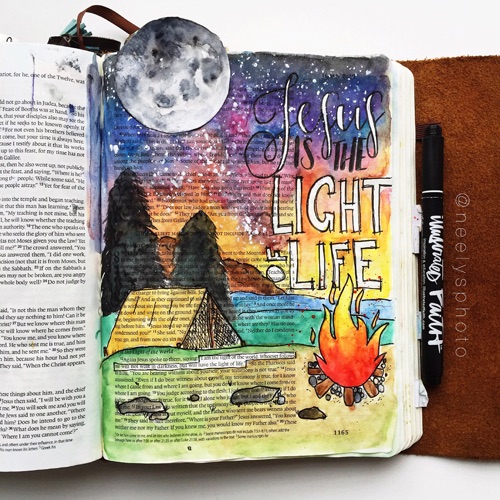 Would you consider yourself a creative person / Are you creative at any other time in the week? I tell people all the time that since I was a little kid the 2 things I've always wanted to do are sing and draw. I cannot sing…and up until recently, I couldn't draw. I always wanted to be artistic and creative, but never considered myself to be at all. I majored in Graphic Design and Photography in college because I thought that was about as close to art as I could get. I consider myself a creative person now after I've started journaling, but before that I never did. I think everyone is creative. That's the great thing about creativity, it can be different for everyone. There's no correct or incorrect way to be creative.
Do you have a set time of day or in your week set aside for Bible journaling, or does it just happen as and when you can fit it in? I usually journal mid-morning. I do my devotional or bible study while I drink my coffee in the morning and sit on it a while. If the Spirit moves me to journal what I read that morning, I'll usually start the page around lunch time. Sometimes I'm not sure what to journal until the next day, so I'll sit on what I read a while and pray about it and journal when I find spare time.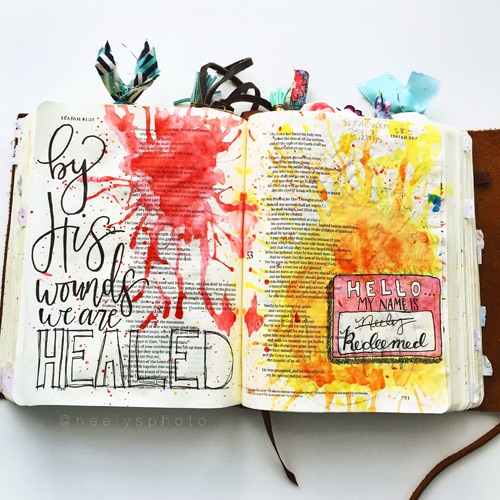 Please can you explain a bit about your process? I usually do my devotional or bible study in the morning after I take my son to school. I will pray before I do the study and when I'm done I sit on it for a while. Sometimes I automatically know what I want to journal, sometimes it takes a while. Sometimes I don't know until the next day. I don't always journal the things that I've read. If I don't feel like it is coming to me easily, I usually don't do it. I really feel like journaling needs to be Spirit lead. If something doesn't feel natural to me, I don't feel like it's something that God is trying to teach me. Occasionally, when I'm not getting inspiration from any of my devotionals I will turn on some worship music and listen to that. If something really moves me, I will journal lyrics or look up verses that go with whatever song I'm listening to. There have been many, many, many pages that I've done that have been inspired by whatever season that I'm going through in life. If I'm having a particularly hard time with something I will look up verses about whatever might be going on or how I feel and journal that. I usually sit at my desk to do all of my work.
Why do you draw/paint/stick/letter in your Bible? I draw and paint in my bible for a few different reasons. First, I knew I needed to spend time with God but I wasn't sure how. The bible was honestly kind of boring to me. Reading felt like a chore and something that was just on my to do list to check off because it was always hard for me to understand. I'm also a very, very anxious person. I tend to be pretty negative and let life weigh me down. I needed a hobby to use as a stress reliever but I wanted it to be something productive that would also help me. I didn't want it to be something mindless.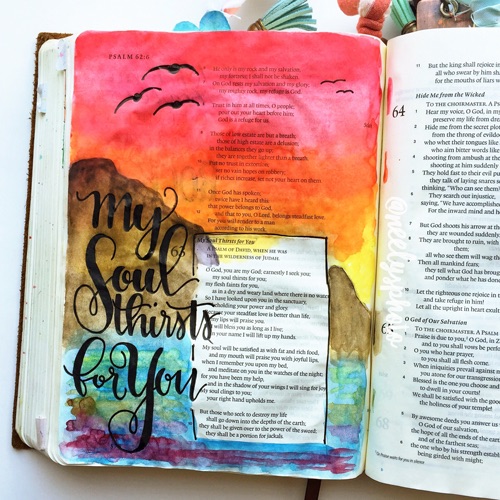 God literally just sat journaling my lap. I happened upon it be complete accident while looking for a journal to write in as I did studies. As soon as I saw some pictures, I knew I needed to try it and it has been the perfect thing to keep me in the bible, to help me want to understand what I'm reading, to worship and respond to God and to learn about God and His promises to us. It's changed my heart and mind in so many different ways and I have also met some wonderful women that I will call my friends forever. It's been a blessing to me in so many ways.
Please could you introduce us to your style?
 I think that my style is pretty simple. It's hand lettering and watercolors. That's all! [Comment from Rebecca - I love how she says "that's all"!! Have you seen Neely's pages, they are incredible!]
What is your favourite page in your journaling Bible and why? This is so hard. It's hard because I can look back over almost every page that I've done and I remember why I painted it. I can usually remember what was going on in my life and see God working on me in that season…so because of this, every page holds a different and special place in my heart. Though one that I will never, ever forget is the page that I did sitting beside my grandpa the night before he passed away.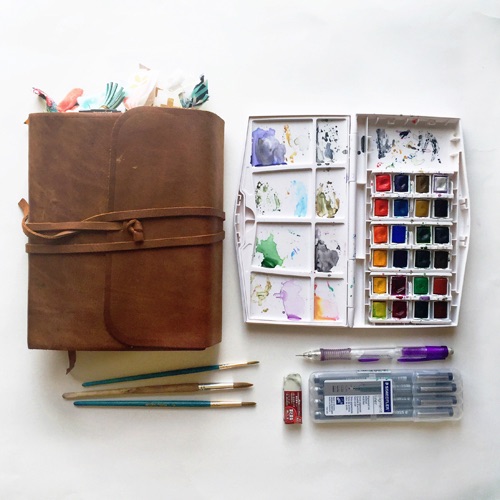 What are your favourite supplies? Pencil, a white eraser (white because it doesn't leave colored residue), pigment liners (either Micron or Staedtler), and watercolors. That's really all I use!
What Advise do you have for new starters, especially those who are scared to start because they are frightened of 'ruining' their Bible?
Just do it. That's my advice! I know it seems scary and overwhelming, but that's okay. God doesn't care what supplies you have or how artistic you are. He doesn't!! All God cares about is meeting you where you are right now. You will never ruin anything if you're putting your very best part of your heart in it. You WILL make mistakes. You will misspell words and smudge ink and spill water and whatever else. I have done all of these things many times! You have to allow yourself to do that. You have to allow yourself to be imperfect. Give yourself the room you need to grow because you're growing in the best place you possibly could…in the bible and in Him. The bible is a precious thing, but friends, it's still just a book physically put together by a man and a machine. If you mess up a page the whole book isn't ruined, it's meaning isn't ruined, and it's purpose isn't ruined. And you can always buy another one! Let this be your honest and raw documentation of how God is working on your heart.
If you would like to see more of Neely and her journaling Bible you can find her on Instagram, and she has a blog.