Bible Journaling Series, Arden
Posted on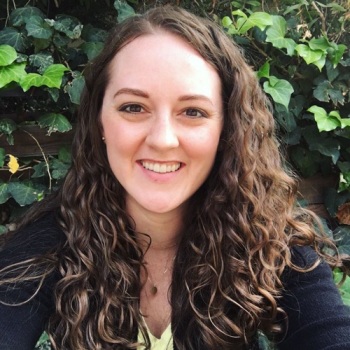 Share a bit about yourself, who you are – your back-story. Hi! I'm Arden Ratcliff-Mann, a children's minister in Kansas City, MO, in the U.S. I went to college as a political science major who planned on going to law school, but ended up feeling God calling me into ministry. I went to seminary right out of college and graduated in 2012. I worked at a church in California for four years while my husband was finishing his PhD in genetics, and we just moved to Missouri last spring. I recently started a Bible journaling group at my church, and have had the opportunity to share Bible journaling with other churches in Missouri at a conference over the summer. My husband Biff and I don't have kids yet, but we are pretty obsessed with our cat, Loki (if you follow me on Instagram, you probably feel like you've already seen more pictures of him than you ever wanted!)
How did you discover / start using your journaling Bible for creative worship? After seminary, I moved across the country and started my first full-time job in ministry as a children's and youth minister. Over time, I became so busy teaching Sunday School and leading youth group and planning worship that I began to neglect my own spiritual life. I allowed nurturing my personal relationship with God to fall to the bottom of my to do list. Many weeks, the only Scripture I read was the text for that Sunday's worship service or children's lesson. I suspect this can be a problem for anyone who's ever served in a leadership role at church—sometimes you get so caught up in the logistics of preparing and leading a Bible study that you forget to actually study the Bible yourself.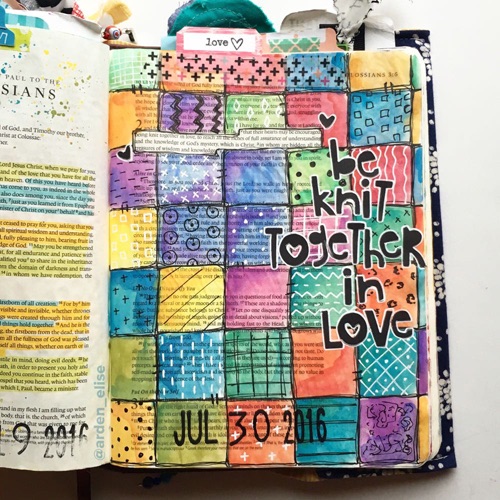 I was in denial about the situation for far too long. I would lie to myself, "Oh, teaching this children's Sunday School class is just as good as reading a devotional." I continued to starve myself spiritually while telling myself that I felt was full. Then one day, I was searching through Pinterest for a knitting pattern I had saved, and I came across a blog post by Shanna Noel about Bible journaling. Intrigued, I clicked on it. I learned that women had started taking Bibles with wide margins and drawing in them—using paints and crayons and stamps to illustrate their faith. And I heard a small voice inside of me—maybe even the voice of God Himself—whisper, "You could do that." I still had some Christmas money saved up, so I ordered a journaling Bible and never looked back.
Would you consider yourself a creative person / Are you creative at any other time in the week?
 I've always referred to myself as a crafty person—in college I would make homemade birthday cards for friends and I was pretty into scrapbooking for a couple of years. But I've never really thought of myself as a creative person (or an artist) before I started Bible journaling. That's part of what makes me think that Bible journaling can be for anyone—you don't have to already think of yourself as a creative person to try it out. You never know!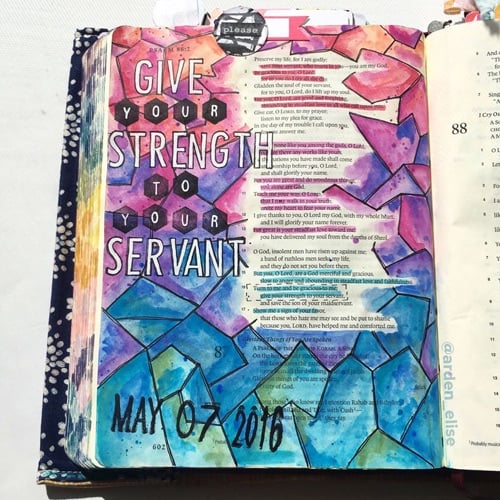 Do you have a set time of day or in your week set aside for Bible journaling, or does it just happen as and when you can fit it in? I usually try to journal whenever I can fit it in! I most regularly try to journal in the hour or so between the time when I get home from work and when my husband arrives home. But depending on what's going on or if I have to run errands, I will also sometimes wait until after dinner and journal in the time right before I get ready for bed. But on the weekends, I might journal in the afternoon if I have time. So I'm kind of all over the map!
Please can you explain a bit about your process? 
I will usually journal on my couch or at our kitchen table. My husband and I live in a one bedroom apartment, so I don't have a dedicated craft space right now. I keep all of my journaling supplies on a rolling cart in a corner in our living room, and I'll roll it over to the couch or table when I'm ready to create. If I'm home alone, I'll often play worship music while I journal; if not, I'll usually create in silence, or with the tv in the background if my husband is watching it.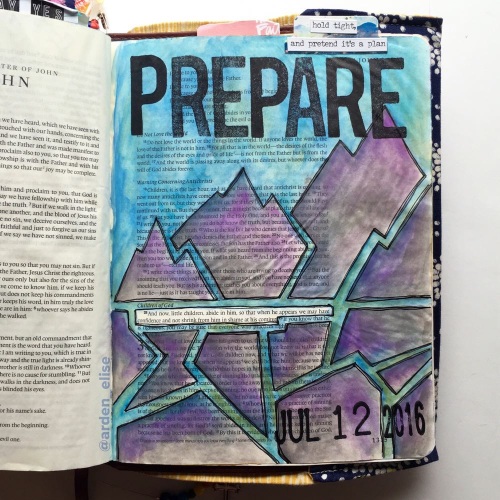 When it comes to choosing which passage I'm going to journal, I've tried lots of different things! Most often, when I sit down at my Bible, I've already got a passage in mind; either I want to journal something from the sermon at church, or I've got a lyric from a worship song or hymn that I want to remember, or maybe there's a line from a devotional that I want to write in my Bible. Some months I'll read a devotional every day and intentionally seek to journal from that, but other months I'll take a more free form approach. Other times, I will have time when I want to create in my Bible, but won't already have a passage in mind. When that's the case, I usually turn to Google for suggestions. I'll search for verses about a certain topic that's on my mind (like prayer, or forgiveness, or grace) and see if any of the suggestions Google finds speak to me. Occasionally, I'll have a particular product I want to use (a flower stamp, for example) and I'll search online for verses that fit that stamp. So often, I've discovered amazing verses that I might never have read by searching online, so I always feel like it's God using Google to bring the perfect verse into my life.
Why do you draw/paint/stick/letter in your Bible?
 Bible journaling has completely changed the way I relate to the Word of God. I used to really struggle to internalize what I was reading; I had a habit of just trying to read as fast as I could so I could finish, but then would often forget what the Bible said five minutes later. Now when I read the Bible, I'm always paying attention to which verses really speak to me or what images pop into my head as I read. I'm reading with the intention to journal, which helps me really focus and internalize the message. It's really brought me much closer to God and His Word, and I am so grateful for this spiritual discipline which helped me finally get excited about reading my Bible every day.
Please could you introduce us to your style? I've tried out a lot of different things, but my currently style usually involves watercolors and always requires alphabet stamps. When I first started journaling, I would try to create pages with beautiful handlettering like the ones I saw online, but handlettering just isn't my gift. After feeling like I was smacking my head against a wall trying to get my letters to look pretty, I finally gave up and bought a set of alphabet stamps. It was a lightbulb moment! Using stamps eliminated all the frustration I used to feel about my handwriting and let me just focus on the Word. The other thing that's pretty obvious about my style is I have no restraint when it comes to color. I very rarely leave any white space on the page, because I just love to fill the whole page up with bright colors!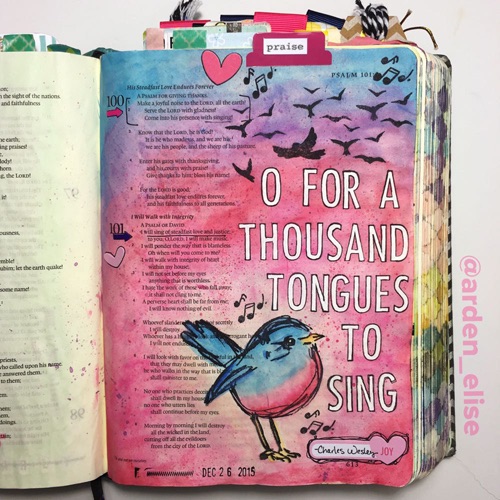 What is your favourite page in your journaling Bible and why?
 Oh man, I have so many now! But this one was probably one of my very first favorites, so it will always be special to me. I am obsessed with that bird stamp and use it all the time, and I just love how the watercolor gradient turned out. (I'm sure if I tried to recreate it exactly I could never get it to look this good!) Plus, "O For a Thousand Tongues to Sing" is one of my absolute favorite hymns, and that line perfectly encapsulates how I feel about praising God: O for a thousand tongues to sing my great Redeemer's praise!
What are your favourite supplies? My #1 favorites are definitely alphabet stamps and a good trusty black ink pad. I have several sets of alphabet stamps now and unfortunately a couple of them are out of stock or hard to find online. But these Amy Tangerine wooden alpha stamps are fabulous, and I love these small outline alphas by Kelly Purkey. And the Homespunalphas from Illustrated Faith are finally back in stock! I use StazOn black ink because it doesn't run if it gets wet, but I'm sure there are lots of good options out there.
I also love watercolors—I currently use the 24 count set of Pelikan watercolors and they are awesome! These Pentel water brushes make watercoloring on my couch or on the go a lot more convenient (I definitely recommend getting a pack with a couple different sizes). And I love a good black pen that won't run when I watercolor over it. I have several of the Illustrated Faith pens, but I know it can be hard to get those internationally (and shipping can be prohibitively expensive). The other ones I've used and liked are Staedtler pigment liners.*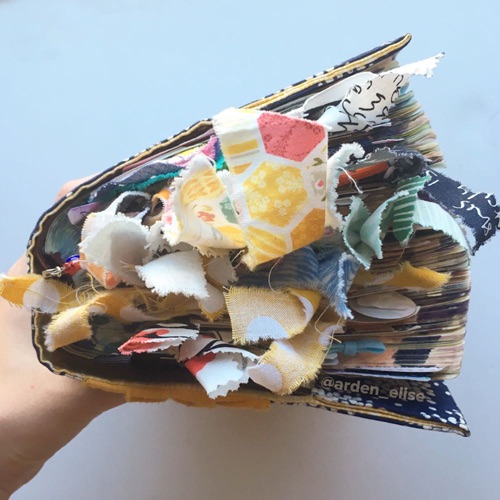 What Advise do you have for new starters, especially those who are scared to start because they are frightened of 'ruining' their Bible?
 I always tell people to just dive in! Know that your first few pages might not end up being your most favorite ones ever, but you will definitely get better the more you practice, and at the end of the day it's all about the process, rather than the final product. Don't feel like you have to make your pages look just like the ones you've seen online; figure out what art mediums and processes are going to bring YOU joy, and do that. I also like to tell people to maybe not start out journaling your absolute favorite verses your first week or two of journaling. When I first started, I went straight to my favorite verses, and it was then kind of annoying not being able to journal them later, when I had a better idea of what my style was. But I got a second chance when I started my second journaling Bible, so it all turned out all right in the end :)
If you would like to see more of Arden and her journaling Bible you can find her on Instagram.
*The links for supplies are those given by Arden, many of these products are also available here in the UK - for example I use the same Amy Tanerine alphabet stamps, and I got mine at hobbycraft.