Inside my inkDori : The Faithful Planner
Posted on

In order to inspire you, I'm interviewing several inkDori enthusiasts to find out how they use thier's! Today we meet Tawni, aka @_tawnimarie_ about her THREE inkDori!! :) and you can read her own post about how her inkDori simplifies her life over on her own blog here!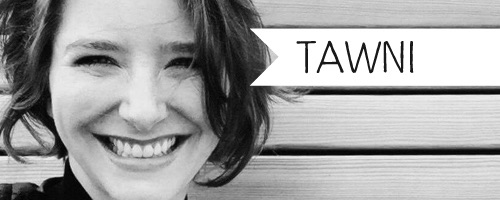 Hi, I'm Tawni, a wife and mama in Vienna, Austria. I'm addicted to coffee and ice cream, and obsessed with nail polish and lip gloss. I'm the voice and artist behind Tawni Marie, a creative lifestyle blog and design shop. I was introduced to the world of Midoris and Fauxdoris in 2015, and have been in love with the inkDoris ever since I laid eyes on them!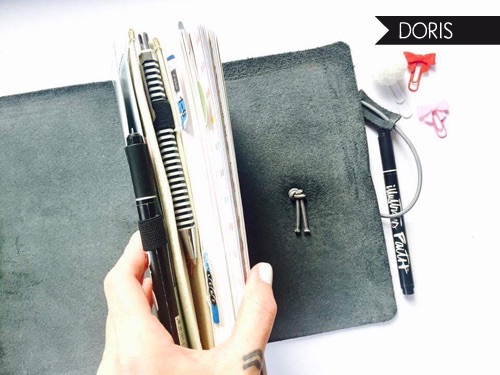 What size and style is your inkDori? I have three inkDoris, and they've all got names, because I'm not a savage. Doris is the big mama -- she's a Chunky Deluxe in Dove Grey, with Stone colored elastic. Natasha is the fair maiden -- she's a Slim in Slate Blue, with Steel colored elastic. And last but not least (mostly because she was my first inkDori), Polly, so named because she's a Pocket inkDori in Violet, with Candy colored elastic.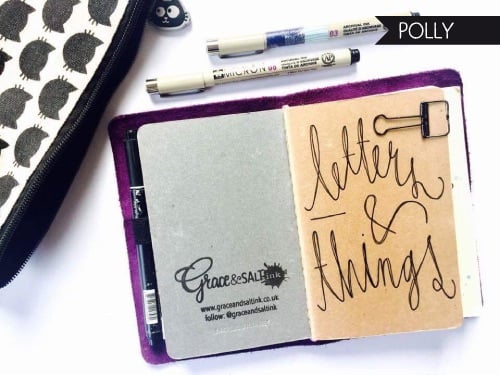 What do you mainly use your inkDori for? Each inkDori has a special purpose. Doris, the Chunky Deluxe, holds the keys to the kingdom. I use Doris for bullet journaling/planning, brain-dumping, note-taking, and for art journaling (that's actually just my fancy way of saying "doodling"). Doris is obese. Natasha, the Slim, is my devo dori -- she holds all of my Illustrated Faith devotional booklets and a couple of blank notebooks dedicated to bible studies. And Polly, the Pocket, goes with me everywhere because she's so compact and cute. She's really lightweight with only four notebooks, which are dedicated to sermon notes, lettering practice, and random thoughts/notes I jot down while I'm "out on the town."
How do you use your inkDori?
This is a quick walk-through of how I'm able to fit TEN TN-sized journals and two TN-sized organizers into my "Slim" inkDori. (Which suggests on the website it is designed to fit three large Moleskine cahier jouranls in!)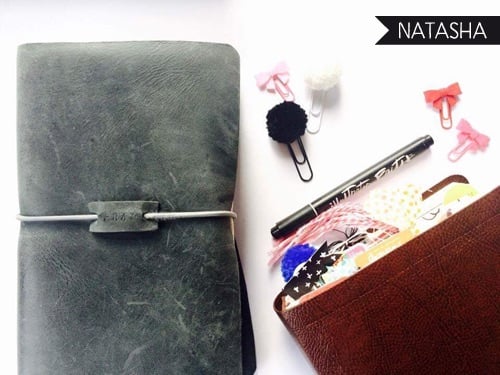 & finally, why do you love it? I love my inkDoris because they keep me sane! Before I discovered the whole traveler's notebook concept, I was kind of all over the place between sticky notes, iPhone notes, digital calendars, desk calendars, and you-name-it. The traveler's notebook is the perfect solution to all of that mess. And why an inkDori over any other brand? Well, besides the fact that they're made with ACTUAL LOVE, they are the perfect combination of sturdiness and flexibility. I've tested and tried a few other brands of traveler's notebooks, so I can say with some sort of authority, which I've given myself, that the inkDori are far superior, and I really don't think there's any turning back for me!

Above is the photo I took Tawni's pocket inkDori when it was first made up, verses a photo Tawni took of it recently! Likewise, below is another recent photo of "Polly". Well loved, as you can see.