Inside my inkDori: The Besties
Posted on

In order to inspire you, I'm interviewing several inkDori enthusiasts to find out how they use thier's! Last time we talked to Tawni, and today we meet Claire, to talk about what's inside her inkDori...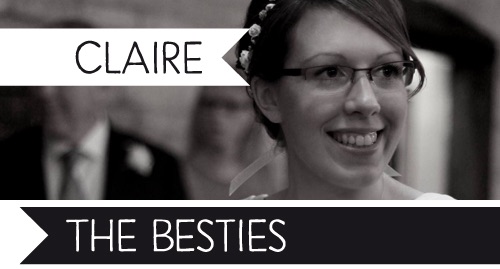 Hi there! My name is Claire, I'm 25 and I live with my husband Andy in Bristol, UK. I work with young people in a church here. A few 'loves' of mine, other than Jesus and my husband, are: chocolate, coffee, bunnies and (most importantly for today) stationary! I'm a sucker for a good notebook; Andy actually bought me 3 or 4 new notebooks as a Christmas present one year because he couldn't decide which one I'd like best and said 'well, more is better right?'. He is right. He's so right.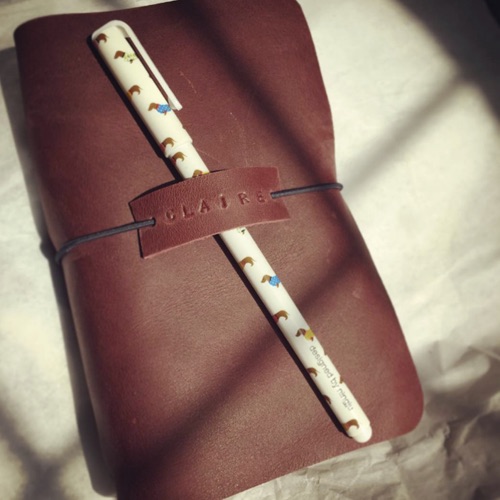 What style, size and colour is your inkDori My inkDori is a plum, pocket-sized inkDori original, with navy elastic. (I actually had Rebecca cut my inkDori slightly smaller than the standard pocket-sized, because I knew I wouldn't use five journals in there; she was wonderfully patient as I made the agonizing decision to cut literally millimeters off my lovely notebook!)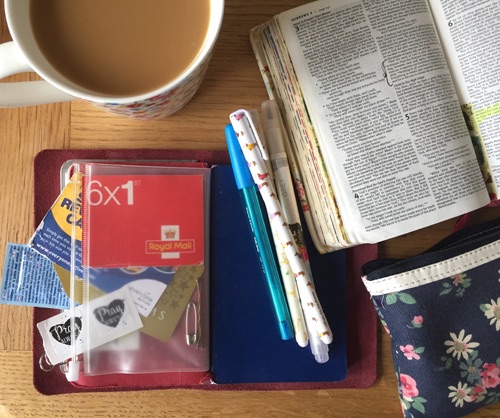 What do you mainly use your inkDori for? I've been using an inkDori for over a year now, and I can't think of many days where I don't pull it out of my handbag for one reason or another. For the last few months I've also been using it as a wallet in an attempt to cut down on the amount of things I carry around with me every day!
A quick flip through my inkDori looks like this: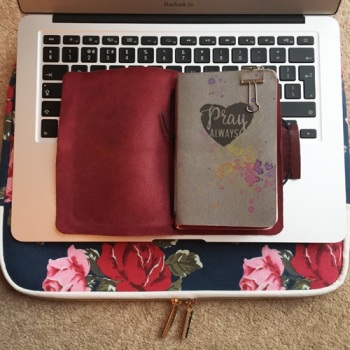 First up: a Pocket Prayer Journal…I always go for the hand painted ones! This is my 'Jesus journal'; I use it for sermon notes, prayer journaling, and things like the #30daysofbiblelettering challenge. If a verse jumps out at me when I'm reading the bible or if God is saying something specific I'll write it up in my PPJ.
Secondly: the card-slot section of a zipper pouch. This has store loyalty cards, my driving license and the like.
Thirdly: my (red) 'work' journal; a plain Moleskine cahier. This is where I scribble things like notes from meetings, youth group session plans, and lists of things I need to beg, borrow or steal to make a specific activity happen. It's not creative or neat in any way, but it's exactly what I need. Anything more permanent gets typed up and stored, so these journals go in the bin when they're full!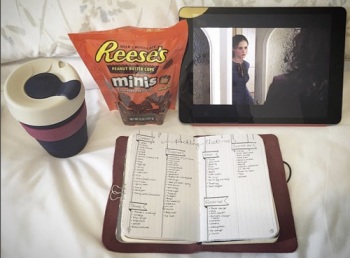 Fourthly: the zipped pocket side of the zipper pouch. This currently has stamps, a swim reward card, some coins, a safety pin, glasses wipes, and a couple of 'pray always' stickers. Nothing exciting, but everything useful.
And finally: a blue Moleskine Volant journal. The first couple of pages are gift lists; when I think of something that would be great for a Christmas or birthday gift for someone I know (or for me!) I jot it down in here. I chose the Volant journal because every page is detachable, and the rest of the journal is for my weekly(ish) to-do lists. Each week I rip out and throw away last week's list and start a new page; hopefully blank, but usually with a few things carried over from the previous week. I also use a binder clip to hold my receipts to be handed over for expenses!
& finally, why do you love it? I love having all the stuff of my life on paper, but I also love being able to get rid of the bits that are 'finished' without losing a beautiful notebook. I recently bumped out the 'wedding and new house' journal; as our first wedding anniversry approaches it doesn't need to come everywhere with me anymore! I like the mish-mash of having my to-do list, my 'Jesus journal' and my wallet in the same place and always with me; it means the God stuff isn't limited to Sunday mornings and I know I can grab some journaling time wherever I am. I still love pulling out my beautiful leather inkDori, my bible and a few pens in a coffee shop and seeing what God has to say.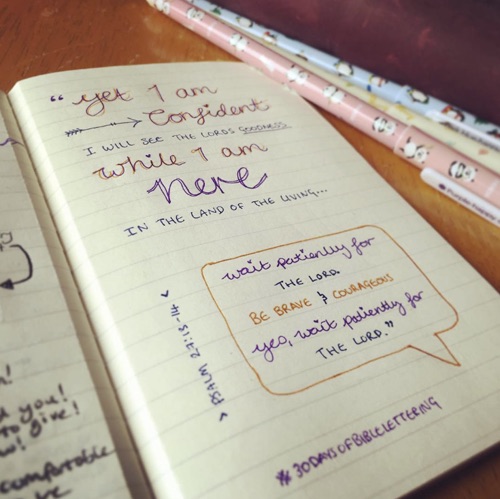 Story time. Last year my car was super broken, and as we couldn't afford to fix all the issues (some of them could wait a little while), we decided to ask God to provide enough money to get the car back into good working order. It was quite a lot of money, and I wrote down in my PPJ how much each issue would cost, and a few verses from Psalm 50 that felt relevant. A couple of months after this, I was sat in a coffee shop with my husband and had check my bank account online, quickly. I noticed there was much more in there than I was expecting, and it was a fairly random amount from a random source. I dove into my handbag and grabbed my inkDori – I knew exactly where to find what I'd written all those weeks ago, and it was within grabbing distance! I looked at the numbers I'd written down and found (after having Andy do the math!) that they matched the exact sum in my bank account! God provides, and being able to 'check' what I'd been praying for in that moment (rather than going home to find my journal!) was just wonderful.