Bible Journaling Series, Christina
Posted on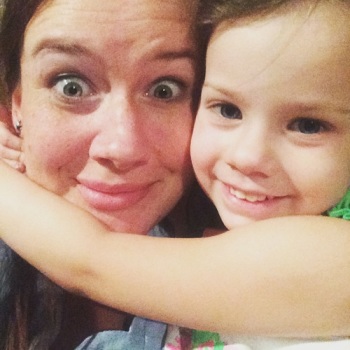 Share a bit about yourself, who you are - your back-story: Hey ya'll! My name is Christina Lowery. I am a follower of Jesus, wife to one, a mama to four, a worshipper, and a general mess maker. My husband and I have been married for almost 12 years, and have 4 children together, which we teach at home. [Well, I teach; he works, but its a family affair ;)] I serve on staff at a local church as Worship Leader, I teach where needed, or just do whatever needs to be done.
I've been in church my whole life, and by God's grace, came to know Him at an early age. Not to say I've always been perfect, but since I heard the Gospel so early and so often, I recognized my need for a Savior when the Holy Spirit convicted me and God called me. All that to say that the Bible has been a big part of my life for a long time. I developed simple Spiritual disciplines such as Bible reading, Bible study, and prayer pretty early on in my walk with the Lord, and have remained, again by the grace of God, fairly regular and consistent with them.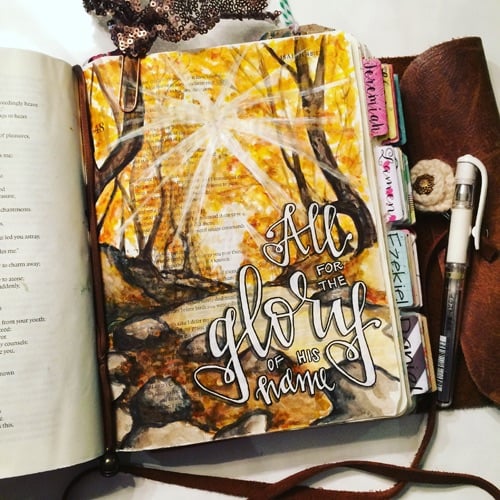 How did you discover/start using your journaling Bible for creative worship? This is where my Bible journaling testimony may differ from others. Bible journaling didn't bring me to the Word, the Word brought me to Bible journaling. In fact, as a teenager, I remember writing Scripture in my notebooks or spare paper in a creative way to help me memorize it. I would add doodles or change the font to help me remember different parts. I was working at a Christian bookstore when Journaling Bibles first came out 10 years ago, and received my first journaling Bible for Christmas in 2006. I was so excited to have room to write pretty Scriptures right there in the margins of my Bible. And that's what I did… for a long time, that's what I did: just write in the margins of each page the verse that stood out to me. Maybe I would decorate with a simple border around it or small doodles, or maybe I wouldn't… Fast forward to the fall of 2015… I was browsing Instagram and ran across Illustrated Faith and a whole community of creative individuals. I was so excited to see that other people connected with the Word creatively too, and some of them were doing much more than I had done. I saw beautiful scrapbook style layouts, gorgeous hand-lettering, and artistic paintings all right in the journaling Bibles. I had not thought to use my Bible as a journal until then. I slowly began to branch out and try new things in my Bible. At the beginning of 2016, after watching some very gifted and inspiring ladies paint in their Bible with watercolors, I had a strong desire to try that out. I started with Gelatos, since that's what I had. I just used them as you would watercolors. I had never painted with watercolors before (or really anything), so I just did what worked for me. The more I painted, the more I realized what a beautifully focused time it was for me to not just memorize Scripture but to meditate on it, so I invested in an inexpensive set of beginners watercolors. I quickly decided that, for me, my journaling Bible would be used specifically as a journal and not for re-reading or study. I have at least 10 other copies of the Bible at my house, not to mention the internet and my phone, so I felt ok about this Bible maybe not being completely legible. Once I was ok with covering some of the words, I began to just paint whatever image the Lord brought to mind as I read through my Bible. This was a big turning point for me, as I was more able to focus on listening to the Holy Spirit as I meditated on God's Word, and not worry so much about if what I was drawing/painting/writing was fitting into a certain space. This is different for everyone, but for me, this is what works.
Would you consider yourself a creative person? / Are you creative at any other time in the week? I laugh. Because, I'm pretty sure that EVERYthing I do is creative. I like to MAKE things. I enjoy the process of creating things. I make music (out of everything), I make food, I make up crazy outfits, I make up stories (for my kiddos, of course), I make believe, I make no sense (HAHA) …and on and on. I'm not necessarily crafty, but creative. Especially using whatever I have to honor God to the best of my ability. I prefer to be making something rather than doing almost anything else. I'm not saying that I am some great creative mind, I'm just saying that I'm a big mess that enjoys making. It's part of who God made me to be. :)
Do you have a set time of day or in your week set aside for Bible journaling, or does it just happen as and when you can fit it in? Well, I made a commitment to myself and the Lord at the beginning of this year that I would Journal THROUGH the Bible as I read through it. I generally read through the Bible about once a year (give or take a few months), but I wanted to challenge myself to put down on paper something from my reading each day as I am otherwise tempted to read just to check off my daily list. So this year, it's been a daily commitment. It will likely look different next year, but it's daily right now. And as far as time of day, just whenever it fits in my schedule. I do my actual reading, study and scripture writing in the mornings, but the rest just gets fit in wherever it can. ;)
Please can you explain a bit about your process? I always start with prayer, as I would before almost ANY time I read the Bible. I ask the Holy Spirit to guide me as I read, for understanding, and for retention. Then I read. I pick up where I left off, as I'm reading through, but I suggest picking a book of the bible or a section of the Bible to read and study, as it helps with general understanding, I think. There's nothing wrong with just picking out verses, but I usually like to at least read the chapter or section the verse comes from as to keep it in context as much as possible. When the Lord brings a thought or image to mind, I just begin to paint. If I'm not sure how to paint what The Lord brings to mind, I will often search through photography or nature on Pinterest, to get ideas or images to study. I then will pick a couple of images and decide what I like about them and then try to create my page using what I learned. I just paint… and as I paint, the Lord begins to process the Scripture in my mind and my heart. So, I use my painting time as a focused time to meditate on the Scripture. When I'm done painting, I just write either a Scripture or a thought about the Scripture on my page to remind me of what I learned. As much as I hate it, I do most of my journaling sitting at the kitchen counter, which means that my counter, or at least part of it, stays a mess.
Why do you draw/paint/stick/letter in your Bible? Bible Journaling is a tool I use to help me to personalize and meditate on Scripture. It's been so helpful in helping me to delight in God's law, and I'm so thankful that the Lord gives us ways to express what He puts in our hearts!
Please could you introduce us to your style? My style, or what I've settled into for now, is watercolor painting and lettering. Again, my style is quite different from where I started, and will likely change more as the Lord guides me. I love color and I love a challenge, so I like to paint things that are both colorful and that stretch my abilities. In fact, I often choose to paint or draw something because I know that I can't. I know that sounds crazy, but that's how I keep from getting too comfortable or monotonous in my disciplines. I also choose things that are out of my capabilities, so I can be sure not to take credit for what the Lord has given me. (I don't mean to sound like I'm tooting my own horn. Quite the opposite! I know that ANYthing good in me is Christ.) Gifts say much more about the giver than the receiver. And while there are certainly much more talented artists than myself, I know that any bit of ability I have is straight from God and by His grace!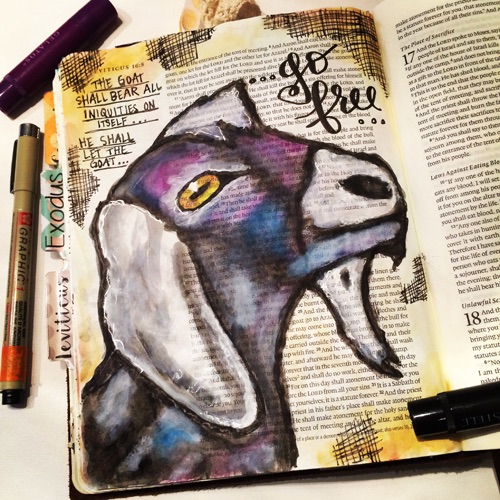 What is your favorite page in your journaling Bible and why? Oh gosh! Do I have a favorite? I'm not sure that this is my favorite, but this one was a definite turning point for me. It was the first time that I put down the image God gave me, even though I knew I couldn't do it. This was WAY beyond my capabilities and most definitely biting off more than I can chew. So, I look at this, and see what God did. I see what He does. He takes us, in our messiness, and makes us into something much more wonderful and beautiful than we could ever become on our own. When we just surrender to Him, He makes beauty from our ashes. Not trying to sensationalize what God does, but just loving how He gives it to us in ways we can understand.
What are your favorite supplies? The supplies that I use on every page are watercolors and pens. Here are my favorite of each: I recently upgraded to Kuretake watercolors, which I LOVE, but I started out with Pelikan watercolors, which I highly recommend. They've got a great color selection, they go on the Bible pages nicely with no "chalky" finish, and they don't bleed through the pages. I also love to use Pentel aquash water brushes for simplicity and convenience. Having the water inside the brush is good for clumsy people like me who have a tendency to spill things like dirty paint water all over everything. As far as pens go, Faber Castell PITT pens are, hands down, my favorite! I buy the large variety box because I use every tip. It would also be a great way to try them out to see what tips YOU like. I also use the Faber Castell brush pens and big brush pens for shadowing. I adore them all. And I can't forget about my favorite white pen: the Uniball Signo broad tip white pen. I use this pen for so much, and it is definitely the smoothest writing white pen I've found. Now, I don't have a big stash of things, so these are the products that I use daily.
That being said, I love the look of stamps, but I just don't have them in my budget. Also, alphabet stickers are a nice treat occasionally. I love the collections of alpha stickers Illustrated Faith offers. I like to add in stickers to add variety to my lettering, or you can just use stickers to spell out words or verses. Super cute! Washi tape is another treat to add a bit of color and texture to your pages. There are sooooo many styles and varieties to choose from. Scrapbook paper and journaling cards are nice to have on hand to add in on pages for extra writing room, or to cover up any *mistakes…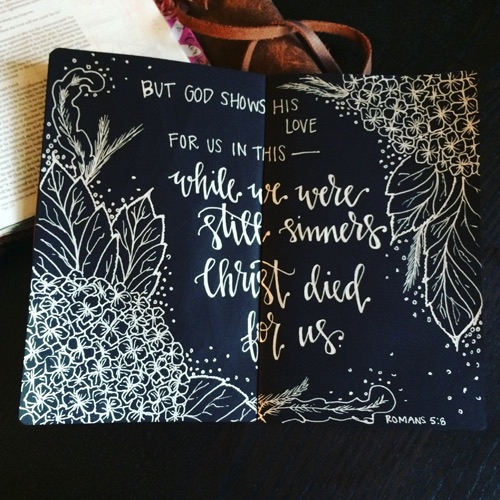 What advise do you have for new starters, especially those who are scared to start because they are frightened of 'ruining' their Bible? If you are feeling a bit timid, start in a journal. When you feel comfortable with your lettering or doodling, or whatever you do, try to transfer a page into your Bible. I've found that once you have a couple of pages done in your Bible, that it seems a little less intimidating. Just go for it! It really is NOT about making the most beautiful or perfect pages, because if it were, I'd be in trouble. It's about spending time with God in the PROCESS. Don't be so worried about the outcome that you don't enjoy the process. That would be a waste. The goal is not the art, the goal is Christ!
Thanks so much for reading and letting me share. It's my prayer that if this appeals to you or excites you, you would pursue it. It may be just the tool God uses to draw you closer to Him!