Bible Journaling Series: Tiffany
Posted on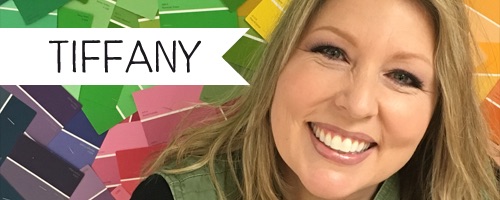 Share a bit about yourself, who you are – your back-story: Hi! I'm Tiffany. I'm a wife of 12 years, and a mom of two young boys, ages 8 and 5. I am a full time art teacher at a public middle school in Southern California. I have been a Christian since childhood. My walk with Christ hasn't always been perfect. In fact, there was a period of time in my 20's when I walked away from God. I quickly realized my complete and utter dependence upon Him, however, and returned to His loving arms. God has been faithful to see me through countless struggles and trials over the course of my life. I couldn't survive without His grace and love.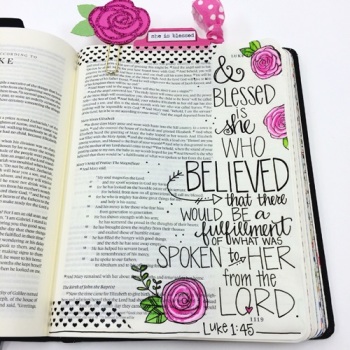 How did you discover / start using your journaling Bible for creative worship? Two years ago, I saw a photo of someone's journaling Bible on Pinterest. I was immediately interested and knew I had to start Bible journaling. I loved that it combined art, creativity, and God's word. I purchased a journaling Bible and started drawing and painting on the pages. I loved the process and I loved the finished product.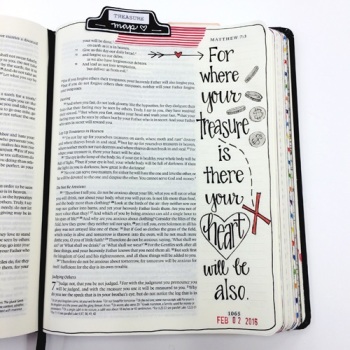 Would you consider yourself a creative person / Are you creative at any other time in the week? I am a very creative person. I make something every day. I love to draw, paint, and take art classes. My biggest challenge is finding the time to make art.
Do you have a set time of day or in your week set aside for Bible journaling, or does it just happen as and when you can fit it in? I enjoy Bible journaling on Sundays. I have fewer responsibilities and less stress on Sundays and I find it to be a great day to create. In addition, I feel more prepared to illustrate scripture after worship. Attending church prepares my heart and I often get inspiration for a journal page from the sermon.
Please can you explain a bit about your process? I like to work at home, as I have all of my supplies ready to create there. I always pray before I start a page. Sometimes, the Lord will press a scripture upon my heart that I know I am meant to illustrate. Other times I will read until a scripture stands out as one I would like to illustrate.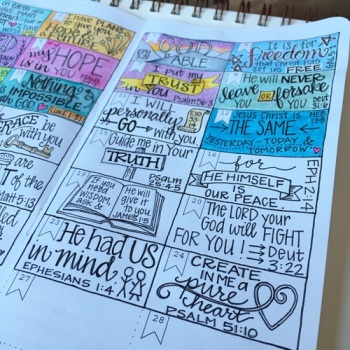 Why do you draw/paint/stick/letter in your Bible? Drawing, painting, and lettering are my joyful process. It makes perfect sense to me to use my gifts to glorify God and worship Him. I draw in my Bible to express my faith and my love for Christ. I don't always create in my journaling Bible. I often letter and illustrate scriptures in a sketchbook or notebook or even a calendar or planner. This summer I created "tiny scripture doodles" for a month. I like to change things up and have fun. I love to share my creations with others to encourage them in their relationship with Him.
Please could you introduce us to your style? I draw, paint, and letter primarily in the margins of my Bible. I do have some pages where I have painted over the entire page, but I tend to stay in the margins. I am usually neater in my Bible journaling than I am in some of my other mixed media work. I try and illustrate the scripture in a meaningful way.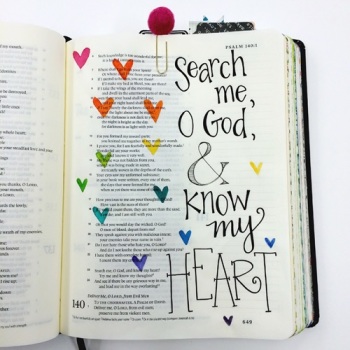 What is your favourite page in your journaling Bible and why? My favorite page in my journaling Bible is one I completed in the summer of 2015. I traced my sons' feet on the page and included a tiny photo of their feet in the sand at the beach. I lettered Isaiah 30:21 "& your ears shall hear a word behind you saying this is the way, walk in it." I love to pray that scripture over my boys. I know I will always treasure that page.
What are your favourite supplies? I like to use inexpensive craft paint, and I love watercolors ! I always sketch my design in pencil first and then trace with a black Micron pen.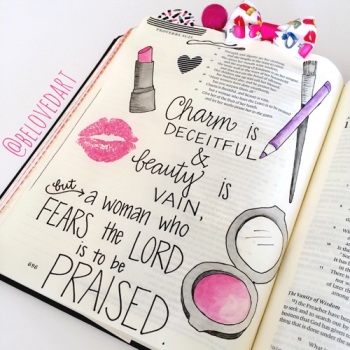 What Advise do you have for new starters, especially those who are scared to start because they are frightened of 'ruining' their Bible? I know many people say "there are no mistakes in art." However, I disagree. I think making mistakes is a part of the creative process. If you have a Bible you have decided to use for journaling, you will feel less pressure. Remind yourself that this Bible is intended for art and creative worship. You might need to make 20 pages you aren't pleased with in order to create one page you adore. The fabulous thing about Bible journaling is time in God's word is never wasted!
If you would like to see more of Tiffany and her journaling Bible you can find her on Instagram.