Inside my inkDori: The Bride
Posted on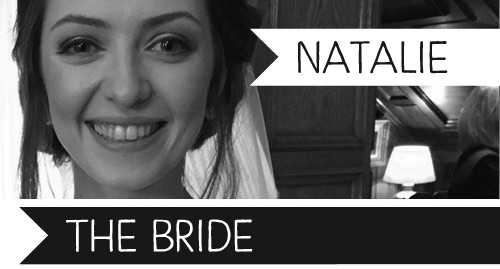 In order to inspire you, I'm interviewing several inkDori enthusiastics to find out how they use thier's! Let me introduce you to beautiful Natalie, aka @nlussey who is talking about her Bridal inkDori...
I'm Natalie Seale (was Lussey) and I'm 27. I graduated with a PhD in Renaissance history and art history from the University of Edinburgh, summer 2016. I got engaged in December 2015 to my now-husband Quincy at his family's ranch in West Texas. We got married on 28th September 2016 in my church, St Mary's Dalmahoy, and had a beautiful two-day castle reception with our closest family and friends. We're now in the process of applying for my visa so we can settle in the US full time.
Beyond that, I'm an avid reader; I practice yoga as often as I can; I love cooking and baking; and I started running 18 months ago to try and improve my asthma, which I've had since I was very young. I don't like Facebook, post all the time on Instagram, and vacillate between loving tea or coffee the most. My mum and my sister are my two best friends and being apart from them (and my nephew) is the only bad part of being in America.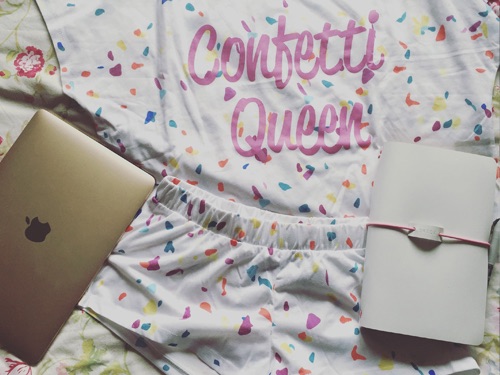 What style, size and colour is your inkDori My InkDori is a Bridal chunky deluxe with books dedicated to different aspects of my wedding planning: the gown; food, wine and flowers; wedding logistics and travel plans; contacts and suppliers; gifts and cards; and finally a prayer journal dedicated to praying for my marriage. My bridal inkDori is (of course!) made of white leather with a "bride" tab, and is fastened with candy pink elastic.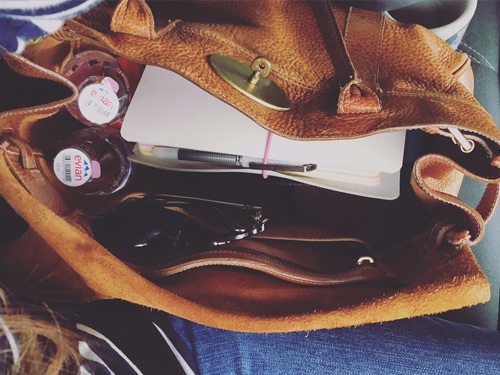 What do you mainly use your inkDori for? I used my InkDori both in and out of the house when I was wedding planning. It was the perfect size to slip in my handbag so I could take notes when I was at meetings and appointments - I listed all the contact numbers I needed for all the suppliers, the details of my gown alterations, notes from our menu tasting, cake flavours, food prices, guest RSVPs, room allocations, details about orders of service, notes from our meetings with the organist and bagpiper, our guest's travel plans and hotels, details about the flowers, and many other things besides...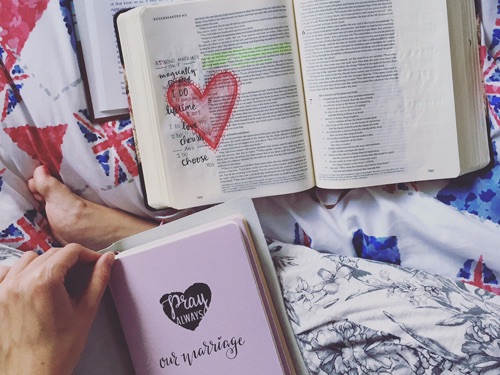 All of the books ended up stuffed full of cards and information, with plenty of jotted down notes (some organised, most not!). The only thing I reserved for writing in at home was our marriage prayer journal, which I incorporated into my marriage preparation. Alongside my journaling bible I looked up verses and books associated with men and women, husbands and wives, families, and marriage. All of my notes and quotes I found are in there, which is such a nice record of that season of waiting.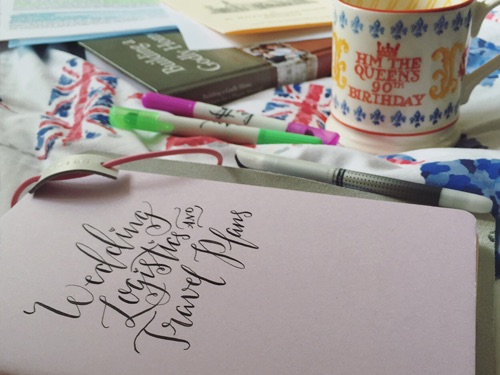 How do you use your inkDori day to day? My Bridal Dori became
totally indispensable during the planning phase - with the help of my mum and sister, it took just four months, between Scotland and Texas, to get everything together and perfect! I was able to consolidate all the information I needed, wherever I was, which made it so much easier to contact people and keep an accurate record of things I needed to do. I couldn't go anywhere without it! I also used it every day as part of my self-led bible study, and it was such a valuable reminder of the need to make time for myself and time in the word.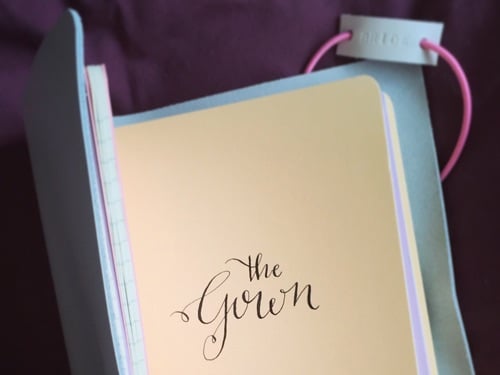 & finally, why do you love it? At the time when I was planning my wedding, I loved my Dori because it was such a helpful way of keeping all of the information I needed together. Now I love it for everything it stands for and means: it's a record of a season of waiting that I'll never go through again. It's also a record of all of my hopes and worries about marriage and my role as a wife, and I know in years to come I'll read through the pages and remember just how I felt when I was a bride-to-be. Beyond all of the symbolism, it's just a beautiful object - beautifully made with beautifully written titles that are so personal to me.