Bible Journaling Series: Ann
Posted on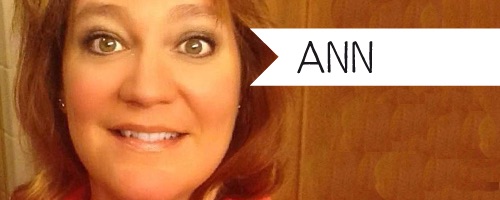 Share a bit about yourself, who you are – your back-story. I came from a bit of a crazy background, did not really know the Lord until I was 30. I was raised going to parochial schools and thought I was a Christian, but until I actually accepted Jesus into my heart, I had a pretty mistaken view of what that meant! I'm so thankful that God has redeemed me and taken me out of my prior lifestyle! He is so good! I met my husband at church back in 2000, we both had kids from previous encounters, and now have 2 together. I lead worship, and my husband coaches Bible Quizzing at church. I can't imagine life without the Lord or our church family!
How did you discover / start using your journaling Bible for creative worship? A couple years ago I saw a post on social media, I don't even remember where, but it was a wide margin bible, with notes and highlighting. I am always doing a bible study, and I love (LOVE LOVE LOVE) pens, school supplies and writing, so that looked like something I needed in my life. I also found a journaling bible page on Facebook, that had about 300 members at the time. (side note: back then, as the idea took off, there were only like 2 choices in journaling bibles and they were sold out everywhere....now the group is up to around 35,000 and there are journaling bibles in many translations and styles!) In any case, initially, the excitement for me was about using some fun supplies in my bible....which in turn kept me returning to my bible almost daily....which renewed my love for the Word and for the Lord.
Would you consider yourself a creative person / Are you creative at any other time in the week? NOPE. I have never been creative in any way, I'm pretty sure I flunked art. I had no experience with stamping or watercolor or acrylic paint. None, zilch, zippety-doo-da. As I've grown in this journey and watched some other journalers, I've been inspired to try all of those things, and love it! Every now and then I have a pretty cool page, but I certainly don't compare to some of my Bible Journaling Besties, and that is AOK. God gifts us all in different ways. The bible journaling is all about the Word of God, and remembering it, and applying it in my daily life.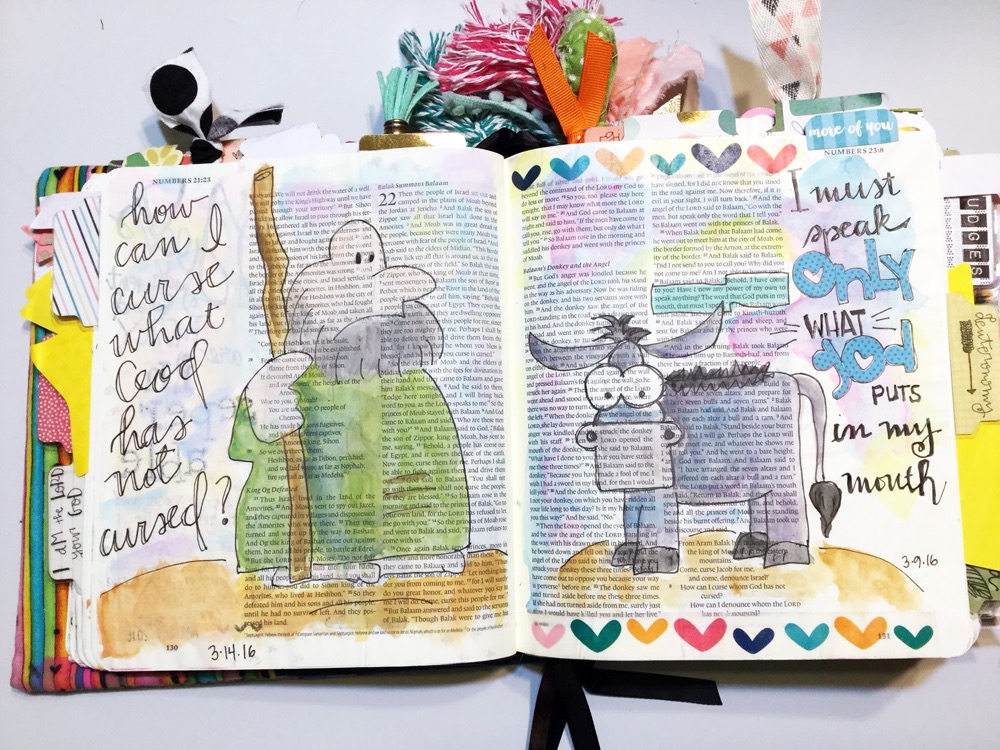 Do you have a set time of day or in your week set aside for Bible journaling, or does it just happen as and when you can fit it in? I do it daily. I made a decision awhile back that I need to be reading my bible and studying every day. For me, because I work full time outside of the home, I need to get up early in the morning and do it with my coffee before anyone else is up. There are times when I'll fit in an extra session or two in the evening or on weekends, and that's always fun, but my primary study is first thing in the morning.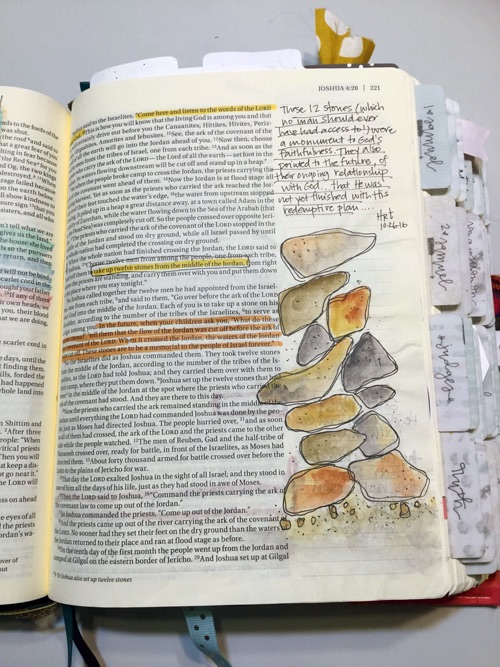 Please can you explain a bit about your process? My oldest son is out on his own now, so my hubby turned his old room into "the Mom Cave" for me. I love having this space for all my supplies!! In the past couple years, I do a daily devotional or am in the middle of a bible study of some kind, so my process involves reading that first, and then going to the scriptures being referenced there. Every now and then I'll put on worship music and see where that takes me in scripture, or I'll journal my sermon notes. This year, starting 1/1/17, my main focus will be going through the Chronological Bible in One Year, and illustrating those readings as I go. I designated one bible just for this, but will keep my other one going for sermon notes and other things that come up.
Why do you draw/paint/stick/letter in your Bible? I have found that actually writing out notes or verses helps me to remember the scripture, or understand it better....and the color on the page adds some fun to the process. Also, taking the time to paint or illustrate also means meditating longer on the verse, passage or lesson.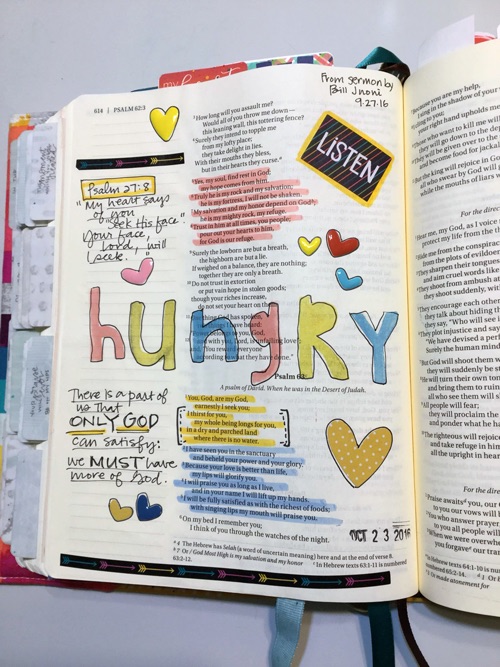 Please could you introduce us to your style? Heehee. As a Non-Creative person, I have really been exploring all kinds of styles in the past couple years! I can't really draw well, but I've tried that, tried watercolor, tried stamping, tried acrylic paint, tried colorful note-taking, tried mixed media and tip-ins......if you page through my bibles, all those things will be all over with no real rhyme or reason. I think the thing that stays constant most of the time is that I love NOTES. I love to write down things that I've learned from the studies or devotionals that helps me understand the text or history better. I also hope that one day my kids/grandkids will be able to page through my journaling bibles and learn from what I've written, so keeping it more simple and just jazzing it up with some alpha stickers and washi is good.
What is your favourite page in your journaling Bible and why? This question sent me to my stack of bibles to page through and look, and you know, it's hard to pick just one page. So many of my pages evoke emotions because of when or why I did them. I watched a periscope one time with a great group of gals from the Instagram community, all in different locations, from all walks of life, but united by the love of God and the Word. We laughed and cried and talked about scripture, it was SO GREAT. I did this page after that, as a remembrance, and it is one of my top ten.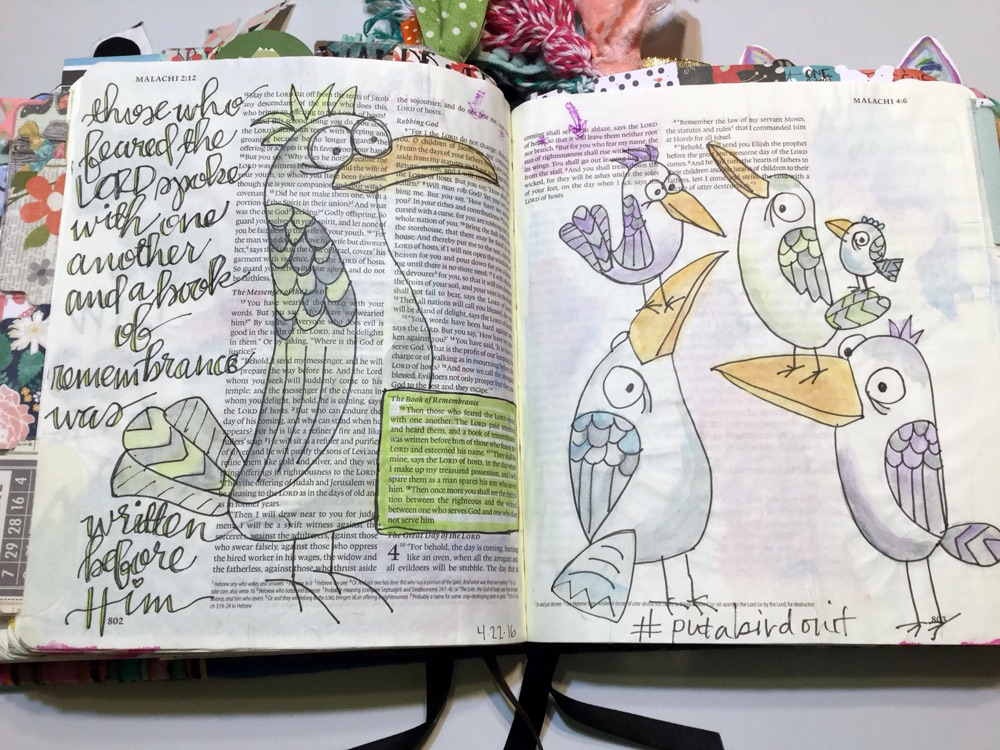 What are your favourite supplies? My all time favorite pens are the Illustrated Faith pens, they are waterproof and come in three different tip sizes. I use them ALL.THE.TIME. I like to use watercolor, and I'm liking the Pelikan set, as well as the Illustrated Faith set...and going along with that, water brushes!! Washi tape, Pitt Big Brush Pens, and adhesive tape runners are pretty much staples too.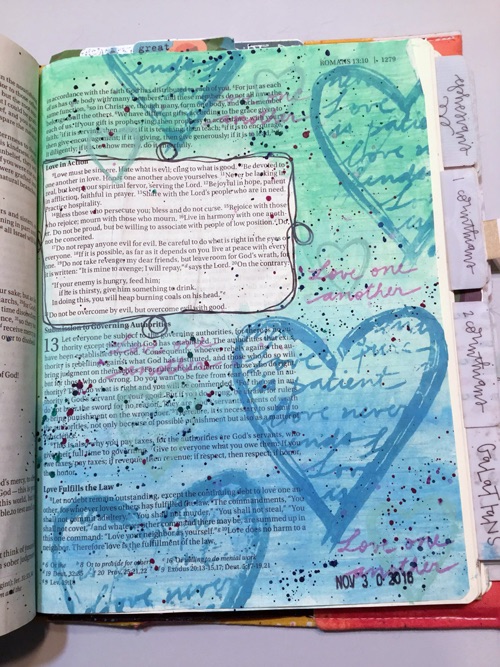 What Advise do you have for new starters, especially those who are scared to start because they are frightened of 'ruining' their Bible? JUST DO IT. First of all, do NOT compare yourself to others on social media. That can be downright crippling. God gifts us all in different ways, and there is room for every one of us to contribute in our own way. Besides that, it's not about the art anyway. It's about God's Word and how it speaks to you, and takes root in your life. Secondly, it's ok to make mistakes. Pages get ruined, pages tear, paint spills, they just don't look like you planned....and that is OK. You can always practice in a journal before you start in your bible, too. As you get going and try different things, you'll eventually find your style or your rhythm and you won't be nervous. You'll look forward to that time with the Lord!
You can find Ann on Instagram. Through January, she is on the creative team for Sonshine Stamp Co, and you can find her several times each month on their blog. Ann is also a regular poster on the Illustrated Faith/Journaling Bible Facebook page, and invites you all to stop by and say hi!