Lent 2017: Rise & Pray
Posted on

Over the last two years God has really laid on my heart a need to pray, and stirred me to call others to prayer also. "Rise and pray" - words Jesus said to his disciples just before his betrayal and arrest [Luke 22v46] really struck me and have been a mantra over that time. I felt like God asked me to design a slightly more structured pocket prayer journal what would help people live out 1 Thess 5:16-18 [ESV] in their every day lives.
"Rejoice always, pray without ceasing,
give thanks in all circumstances;
for this is the will of God in Christ Jesus for you."
From there the original Rise & Pray Journal was born. This Thanksgiving, Praise & Prayer Journal is aimed to help develop an attitude of gratitude, and a culture of prayer over panic in all circumstances. The journal has a short introduction, followed by some starter questions to think about before moving into a six month journal to record both your prayers as well as your thanksgiving and praise.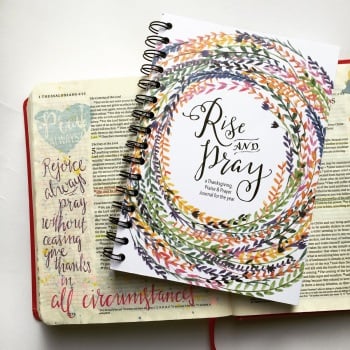 Six months later I released the A5, year long version with added extras, which has proved equally popular and the extra space to record prayers and thanksgiving has gone down well.
Lent is traditionally the season of penance and prayer before Easter and last year I invited you to join me starting using the Rise & Pray journal to record your thanksgiving and prayers through lent. I was quite amazed how many of you decided to take up this challenge and have loved hearing the testimony of what amazing things God started working in your lives.
This year Ash Wednesday is March 1st, just under a fortnight away. If you fancy taking up something, rather than giving up something for lent - I invite you to join me in keeping a "Rise & Pray" journal. I am offering a 20% discount to those on the newsletter list off both the A5 journals and pocket sized journals. Just use the code in the newsletter and order by Feb 28th.
God bless,
Rebecca xo
Order by Sunday 26th Feb to get UK delivery in time for lent. If you are purchasing from outside the UK, if you order by Monday 20th Feb it *should* be delivered in time, but this cannot be guaranteed due to customs.