Bible Journaling Series: Melissa
Posted on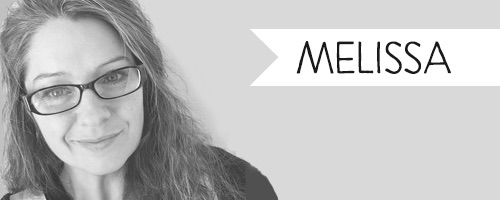 Share a bit about yourself, who you are – your back-story. Hi! I'm Melissa Fischer. I am a mother of two great kids, Ella and Elias, and I work from home so I can be close to them. I'm married to a computer guy named Scott and he is my opposite, which is great to balance me out. I have a degree in Graphic Design from the University of Memphis in Tenneesee. In the past I did more children's art and children's decor but I have been focusing more on watercolors and illustration lately.
How did you discover / start using your journaling Bible for creative worship? I discovered bible journaling a little over two years ago and completely fell in love with it. I ran out and bought my very first journaling bible for Christmas and I was hooked from then on. I love how I connect with the word of God in a more visual way, a more creative way. Its how my brain works and it helps me connect with scripture in a deeper way. I grew up in church but I always struggled to make a connection with God's word and to open my bible and read on my own. Bible journaling changed that for me, I found a way to connect and to create my own journey, and it has been life changing.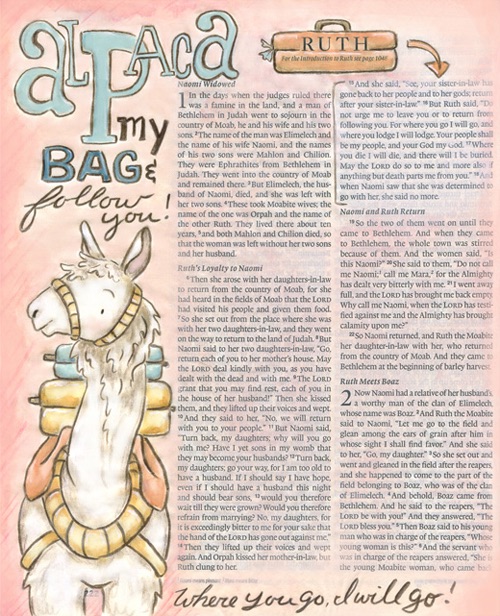 Would you consider yourself a creative person / Are you creative at any other time in the week? Oh yes, I am very creative, but dont ask me to balance your check book, LOL! I have always said there are two things I am good at and that is being a mom and creating a mess with paint! I am always creating something and it drives my husband crazy! I have worked from painting murals in people's homes, to running a small baby crib mobile buisness, and creating children's canvases... I think I have dabbled in a little bit of everything.
Do you have a set time of day or in your week set aside for Bible journaling, or does it just happen as and when you can fit it in? I try to create first thing in the morning after my kids have gone to school. I like to start my day off like that, I get a few moments in scripture and I get my brain working creatively for the rest of the day... so it knocks out two things I need in the morning. But, it doesnt always fall into place perfectly, sometimes you have to be flexible and roll with the punches. If it dosent work out for that morning you just grab the next chance you get.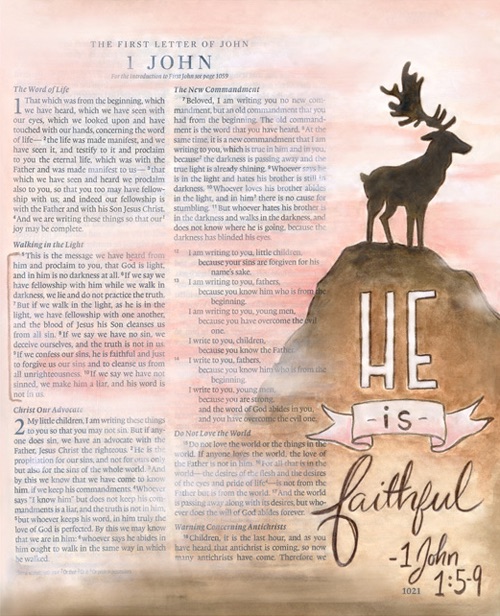 Please can you explain a bit about your process? I am always finding inspiration from multiple places and I love to use a sketchbook or an idea book to keep up with all those ideas! One of my favorite places to get inspiration is music. I love to listen to music as I work through out the day and when something hits me I just jot it down in my sketchbook or on a post-it-note until I can go back and revisit it. I also get alot of inspiration from devotionals, like She Reads Truth, or bible studies I might be working through. Its great to take notes about things that hit home in a personal way to you, and then researching what scripture says about it. Thats how I make it personal to me and create my own path with bible journaling, how am I taking everday situations and connecting it to scripture. Inspiration is all around me, its just taking the time to pay attention to it and making notes about it for later.
Why do you draw/paint/stick/letter in your Bible? I recently found a quote by Georgia O'keeffe, "I found that I could say things with colour and shapes that I couldn't say any other way- things I had no words for." I love that quote and that is exactly how I feel about bible journaling. I draw and create illustrations in my bible because thats how I connect with the world around me. I am naturally an introvert and I'm not great at speaking in front of crowds but give me a pencil and paper and I am in my element. I have always loved when pastors used every day illustrations to explain things about God, and that it is how I love to connect with scripture in bible journaling.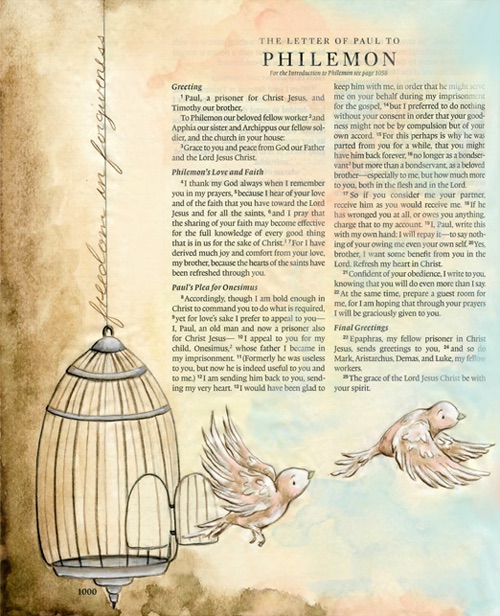 Please could you introduce us to your style? I started out slow when I first started bible journaling, just using a pencil and color pencils. As I got more comfortable with creating in my bible I tried acrylic paint on my pages, and it was fun but I wanted to find something a little more transparent. Now I use watercolors most of the time in my bible, it lets me get vibrant color on my page quickly but keeps that transparent quality so I can easily read the words if I get out of the column. I always suggest you start with what you are comfortable with, no matter if that is just a pencil and eraser, stickers and stamps, or paint... find your comfort level and start there.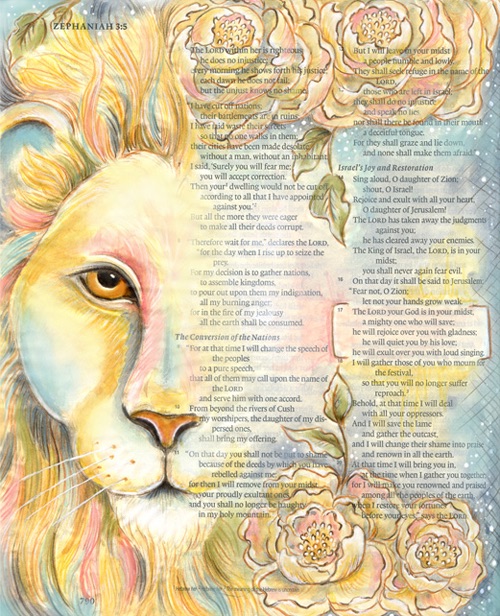 What is your favourite page in your journaling Bible and why? Oh wow, that is hard! Its all so personal that its hard to pick just one! Probably either Zephaniah 3:17 (with the lion) or Ephesians 1:4-6 (with Peter Pan) I love how both of these pages capture how I feel about that particular scripture. I love to create a page that reminds me to think of scripture in a new way, how do you make it fresh and relatiable. Peter pan is a childhood story that I loved as a kid (still do) and by pairing it up with scripture, that I love, helps me remember it better and makes it personal to me. The lion in Zephaniah reminds me of how great our God is but still close enough to take care of our every need. It also reminds my kids of their favorite movie, Narnia.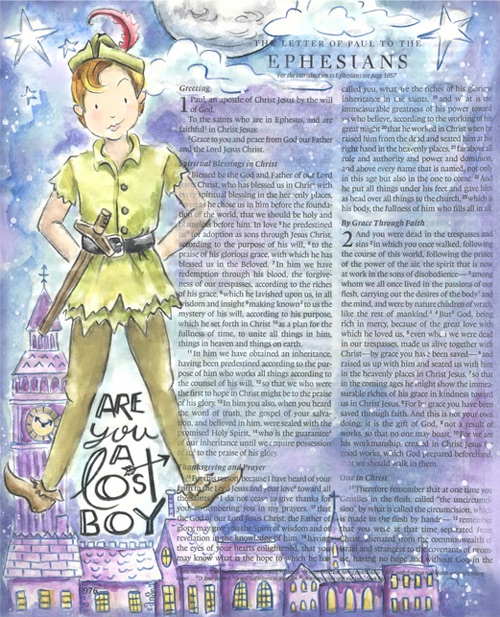 What are your favourite supplies? My go to supplies: I love Van Gough and Winsor and Newton watercolors. I also use Prismacolor and Faber Castel color pencils and watercolor pencils.
What Advise do you have for new starters, especially those who are scared to start because they are frightened of 'ruining' their Bible? Truthfully?? You probably will have a page or two that dont come out like you expected or even tear, I did! Thats what they make tape for, LOL! But, bible journaling is very similiar to life... its never perfect and sometimes messy! Dont get caught up in it being beautiful but about the journey. AND, your journey will look different than others so try not to compare yours with others. It will be a journey that changes your life!
You can see more of Melissa's incredible work over on her instagram feed.