Bible Journaling Series: Iva
Posted on
Share a bit about yourself, who you are – your back-story.
Hello! My name is Iva, I'm from Bulgaria, but lived almost all my life in Spain. I'm a happy 30 year old mom of two (Noa and Luca) and crazy in love with my husband Andrés. I've been working the last four years in the Scrapbooking industry (owned a scrapbooking supplies shop, later an on-line shop and now also managing a Youtube channel with weekly tutorials).
On January 2017 I started also a Youtube Channel named "Walking beside Him" (Caminando junto a Él, in Spanish) dedicated to my adventure with God, where I show my Journaling Bible process, comment Christian books, talk about my own reflections, and so on.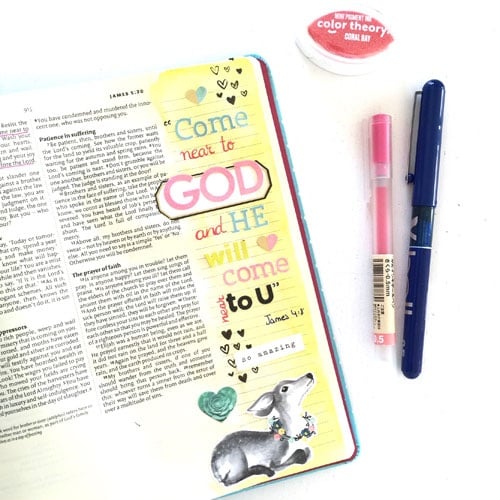 How did you discover / start using your journaling Bible for creative worship?
I met our Lord Jesus twelve years ago but it was two years ago when I started needing something more than just a nightly prayer. That was my crucial point in my way with the Lord, I needed desperately a Bible to go deeper in my relationship with Him and just in that season of my life I saw on Instagram someone decorating a Bible using Scrapbooking techniques, and it was super surprising. On that very moment I knew It, that was what I wanted to do and that was the way to connect with the Lord more intimately. So I found on Amazon a Journaling Bible and started documenting my faith on it. Now I own three Journaling Bibles and feel that I need more of them!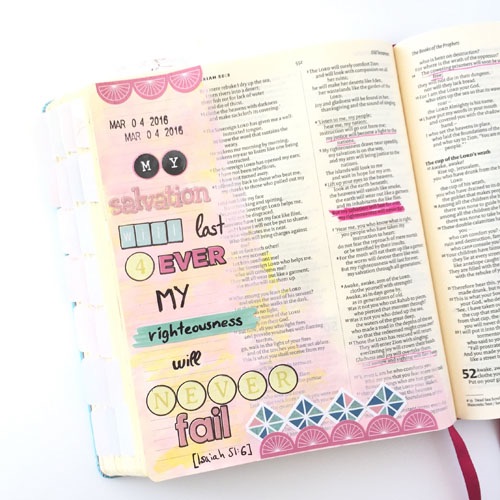 Would you consider yourself a creative person / Are you creative at any other time in the week?
Yes, I consider myself a creative person. That's the reason that I dedicated the last few years to scrapbooking. I've always loved everything paper related, crafty or DIY and when I discovered Scrapbooking I knew that was so "me". And after making my hobby a profession, I get to be even more creative every week.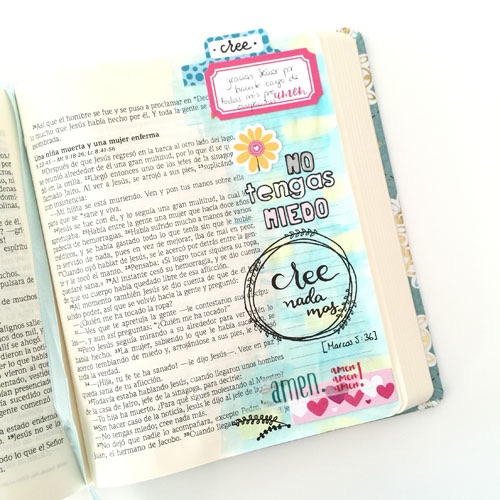 Do you have a set time of day or in your week set aside for Bible journaling, or does it just happen as and when you can fit it in?
Actually no, it's something that just happens. I set aside quiet time for reading scriptures or Christian books, where I find verses that really touch my heart and I write them in a special notebook, so when during the day (more often on weekends) I have 15 minutes for myself I grab my journaling Bible and a few supplies and just decorate the page of one of the verses of my notebook and write some journaling about It.
Please can you explain a bit about your process?
I'm very blessed to have in my home a studio for all my crafty projects, where I have also all my Bible Journaling supplies in a box, next to my Bibles. So when I found the 15 minutes I sit on my desk with my Bible and supplies and start creating. Usually I don't need to check in my notebook what verse want to decorate, because when it touches my heart it stays in my head until I document it in my Bible. And yes, I like to pray before, during and after, because it's a special moment to connect with God, to thank Him for His message, to tell Him how I feel about that verse and to ask for direction about how to implement that verse in my life. I also ask Him if there is something more that He wants me to be aware and He usually guides me to where He really wants me to be (maybe other verse in the same page, or a new vision about that same verse,…).
Why do you draw/paint/stick/letter in your Bible?
When I started scrapbooking it was like a moment of disconnection from the real life, something like a therapy for my soul and I loved It. When I started making it in my Bible it gained a lot lot lot more significance, it just makes me feel the peace and presence of God, it's only about Him and it's my time and my talent just for Him. I can say it's my way of worshiping the Lord.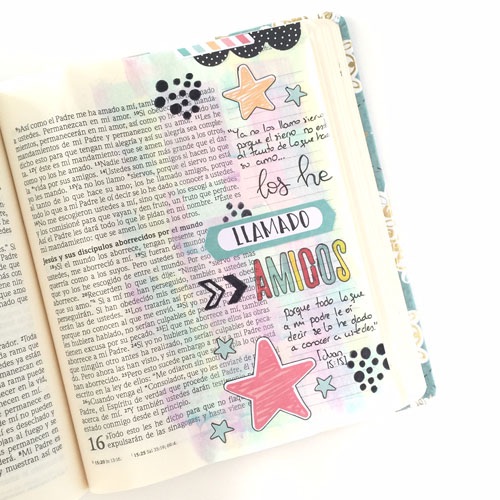 Please could you introduce us to your style?
My style is a clean mixed media. Yes, I know It sounds impossible but what I mean is that I use mixed media techniques (paint, stickers, masks, different inks, pens..) but trying to not making a real mess. I love when I see those pages full of "things" that other people make but I don't feel comfortable with making It and more, I have no time to wait until the paint gets dry, so I use just a tiny bit of It put some stickers, make some lettering and maybe some stamping and that's It. It's more about enjoying the process and not that much the result. Yes, If It turns out pretty, much better but for me It's not the point.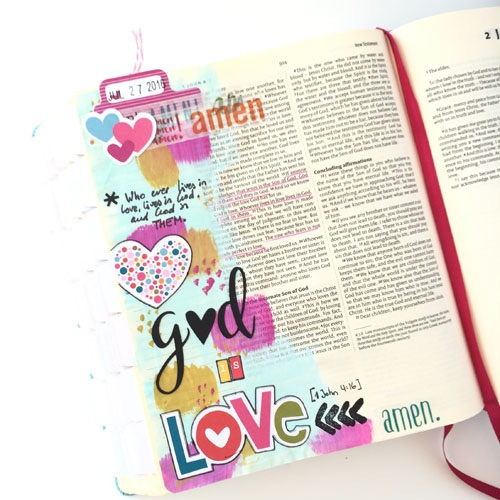 What is your favourite page in your journaling Bible and why?
My fave page in my Bible is 1 John 4:16, "God is Love". Not only because is one of my favorite verses, but because It was the first time that I just let flow the creativity without worrying about the result. And It turned great. More that that, It turned greater that any other time I decorated in my Bible before.
What are your favourite supplies?
I love using some acrylic paint, stickers or die cuts (I love the Illustrated Faith products), washi tape, stamps and lettering pens (as Tombow Fudenosuke, Dual Brush, Pentel touch…). Now I started to design my own die cuts and stickers because It's almost impossible to find them in Spanish.
What advice do you have for new starters, especially those who are scared to start because they are frightened of 'ruining' their Bible?
My advice would be: If you already have a Bible and you use It often to read, study, write notes and so on, go and buy a new Bible, so If you really make a mess It won't be that bad. I actually use my Journaling Bible only for decoration and I have two more Bibles for my studies and reading. And of course, start with something that is comfortable for you. For my first verse I used a very tiny sticker alphabet and a pen, that's It. It took me a while to start adding some paint and more embellishments. And I repeat, It's important to enjoy the process, not to stress about the result, just start, ask God and He will guide you.