How Fearless Laughter Changed the Way I Write About My Anxiety
Posted on

How Fearless Laughter Changed the Way I Write About My Anxiety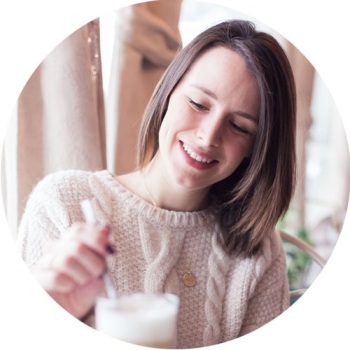 Greetings from Vienna, Austria! I'm Holly - an overly extroverted wife, momma of two under four (send help), expat, and coffee drinker from the U.S. My husband and I moved to Vienna over five years ago to work with a church plant and the city's community. Our journey has been amazing and strenuous throughout our time abroad, though there is one season we characterize as being particularly dark and difficult but filled with blessings nonetheless.
What Happened
After the birth of my first baby, I was diagnosed with postpartum anxiety. My health and safety focused fears were constant which made my mind feel like a noisy, chaotic mess. I became deeply ashamed of myself and stopped going out as a result. My prayer and study life was probably the strongest it had ever been due to my desperate desire for immediate healing. But when my prayers were seemingly left unanswered, I felt abandoned and hurt, and thought maybe I'd been believing in nothing all along. As I attempted to handle being a brand new mom in the midst of a mental, identity, and faith crisis, I began to regularly experience panic attacks, oftentimes in the middle of the night while nursing my son. Those made for some… interesting nursing sessions - for sure. The attacks exhausted and scared me enough to finally call a psychologist into my life to help me learn how to function again and manage my mental and emotional health.
What I Needed
Part of my recovery plan involved finding joy through everyday activities I enjoy. Due to my love of writing, writing seemed like the most sensible place to start. I wanted a journal with purpose that was somehow made specifically for me and this season of recovery. Enter Grace & Salt ink - the exact journaling system I didn't know I was looking for but absolutely needed.
What's Inside My Anxiety Journal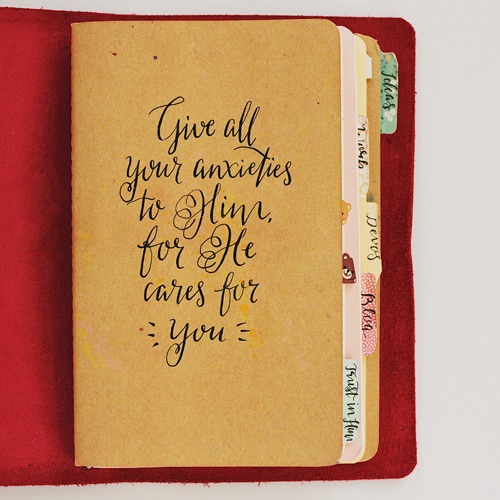 If you look through my inkDori, you'll see five worn journals all filled with a mixture of neat and messy handwriting. But the one that stands out among the five is my anxiety journal. My anxiety journal which reads "Cast your anxieties on Him for He cares for you" on the cover is where much of my mental and spiritual recovery has taken place. Inside you'll find scriptures on anxiety, hope, trust, and grace; you'll see random pages filled with a repetition of straight lines and bubbles, an exercise I do when I feel anxious; you'll read about my triggers and anger towards my struggle and demanding questions for God and reliance on the Spirit. That journal has seen my best and worst days, but I love what I've done with it and how it's helped me grow and learn. However, it wasn't until quite recently that I realized a key ingredient had been missing from my journaling habit.
What is a Fearless Laughter Journal
Last spring, Rebecca wrote me to ask if we could talk about anxiety. She somehow remembered (because seriously guys, she customizes so many journals) making my anxiety journal and wanted to tell me about this amazing idea God gave to her about creating a journal specifically for the anxious. I told her I was all ears and read through her passionate plan to help those who are weary from living in fear.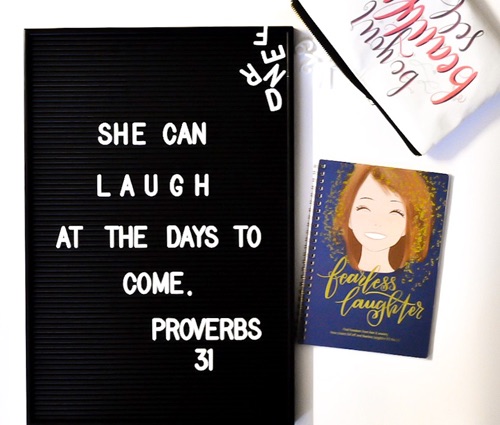 The Fearless Laughter Journal is created to do just that: laugh without fearing what's to come. This journal uniquely contains what Rebecca calls an arsenal of scripture as a way to arm yourself when battling fear. So as an example, if you're looking for a verse to defeat the common fear of failure, she's got one ready for you. With your arsenal at the ready, it's time to conquer the fear that's taken hold. Sometimes it's hard to write about fear, especially if you're not even sure how to put it into words. What I love about the Fearless Laughter Journal is that it tackles that issue by guiding you with helpful, confidence building statements to get you thinking, statements that help you answer questions like - What is the anxiety I want to conquer today? What lies am I believing and want to reject? What are God's promises to me related to this fear? After you've defined your fear and busted out your arsenal to conquer it, you're given space to celebrate your victory: how you faced your fear, how God helped you do it. I love writing in a journal that assumes victory. It's like it's cheering for me, "You did it! You faced it! And you're here to write about it!" Not all of my victories make me feel like releasing balloons and confetti, but the fact that I came back to write about actually facing something I was scared of is often victory enough for me. But I still haven't told you about my missing key ingredient.
The Key Ingredient to Conquering Fear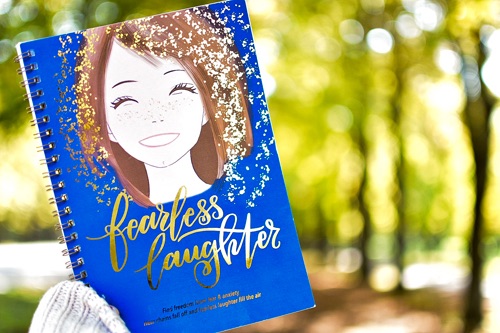 Giving thanks. That's it. Giving thanks and praise to the Father who created you and me. I immediately discovered that I felt oddly joyful despite my spending time on a fear that'd been keeping me down all day. It was because rather than ending my journaling sessions with words like "I'm not good enough" as I'd always done in my inkDori, I began ending my sessions with words like "Thank you for loving me for me. Because my identity is in you, I am good enough." That change alone flipped my anxiety journaling world upside down and right side up because I know there's thanks and praise to give in each and every anxiety, fear, doubt, and dark season I experience. So much of my journaling involves me pleading for my anxiety to go away; to leave me be and never come back. Yet when it doesn't disappear, I think of Paul's letter to the Corinthians in which he too describes pleading with the Lord, three times, to take away something that was painful for him. And the important thing to note here is rather than ending on a note of hopelessness, he goes on to praise God for his weakness and give thanks for the strength he's found in it. I hate my anxiety, yet I'm thankful for it because without it I wouldn't be who I am today or know God the way I do now. So I will boast in my weakness, because with it, I am strong.
Three different times I begged God to make me well again. Each time he said, "No. But I am with you; that is all you need. My power shows up best in weak people." Now I am glad to boast about how weak I am; I am glad to be a living demonstration of Christ's power, instead of showing off my own power and abilities. Since I know it is all for Christ's good, I am quite happy about "the thorn," and about insults and hardships, persecutions and difficulties; for when I am weak, then I am strong—the less I have, the more I depend on him. 2 Corinthians 8-10 (TLB)
If you are intersted in checking out the Fearless Laughter Journal having read Holly's post, you can save 20% on them, using the code "HollysLaughter" at the checkout.
Holly is a member of the Grace & Salt ink Ambassador Team, you can check out her instagram feed here...