JunkDori Launch!
Posted on

JunkDori are a new take on junk journaling. They are more like a "dori" in the fact they are held together with binder rings, allowing you to add in, take out and rearrange pages to your hearts content. Environmentally midful, they are made using up scraps of leather left over from inkDori production, upcycling Moleskine journal pages as well as the usual mix of vintage papers, book pages and maps.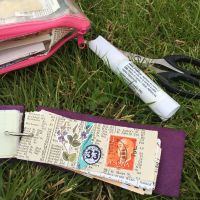 A few months ago I handed some first prototypes over to two of my ambassadors, Sarah and Megan. Both of them are very creative with paper and so inspiring, especially when it comes to junk journaling. You'll see posts from them in their instagram feeds over the coming months about how they have been using their new junkDori and Megan has even made a YouTube video! (Leave her a comment if you watch it, I'd love to know what you all think.) Both Sarah and Megan had fun working in the small very transportable size - Sarah even took to taking hers around in her pencilcase of supplies!
Becasue they are made of scraps, the JunkDori are all unique in both size and contents. So if you see one on the website you like, order it before you miss out! I am not able to make the same again. I will be making A5 sized JunkDori on request, as these are made using the raw edged of leather that don't usually get cut into an inkDori, however they will be made to order so will take a little longer to dispatch. I will aim to have a pre-made JunkDori listing shipped within two working days, the A5 sized ones will be the usual ten working days before shipping, like an inkDori.
I really hope you enjoy these little gems as much as I do creating them!