The Grace & Salt ink A5 Dot Journal
Posted on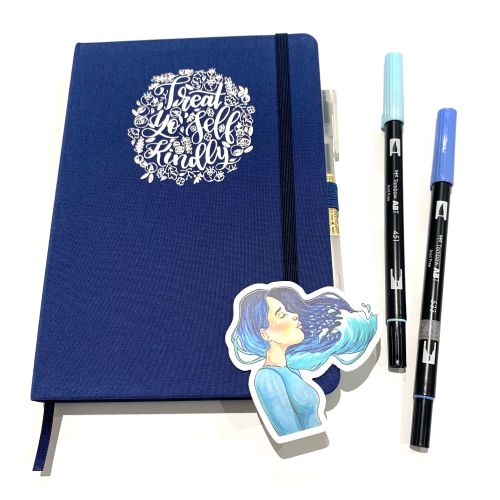 Today is a big exciting day, we launch
the Grace & Salt ink A5 Dot Grid Journal!!
I have been working on this in secret for quite a while - looking for the perfect journal and never being quite satisfied has led me to creating my own!
An A5 dot grid journal with gorgeous smooth 160GSM FSC certified paper!
What exactly does that all mean!? Well the 160GSM means the paper is thick and
can take markers, fountain pens, even paint with no ghosting at all!
You can create mood trackers, illustrations, you name it, to your hearts content without worrying about the next page!
The FSC certification means the paper has been responsibly sourced.
The paper has been harvested in a socially and environmentally responsible manner - the FSC chain of custody certification means the paper can be tracked from it's certified initial source, through manufacture into your hands! So these journals give you a feel good factor not just for your creative feels!
Some of the best features of the journal include -
Beautiful blue linen cover with silver embossed "Treat yo'self kindly" design.
Flat lay pages, making journaling [and instagram photos] easier!
Ribbon book mark
Integrated back pocket
Elastic Closure
& A built in pen loop! No need to buy an add on, it's already included!
Right now the journals are on "Pre Order", as they are currently in production. [See website for full details and estimated dispatch times]. Whilst they are on 'pre order' you can snap one up at a discounted price [no code needed, they are discounted on the website already] and the first ten orders will also receive one of my all time favourite MUJI gel pens with their journal, as a thank you for being an early bird order!

I am so excited to see this dream becoming a reality, and hope you love the journal as much as I do.
God bless, Rebecca XO