Get Involved
There are lots of ways to get involved via social media, to both share the fun and also win Grace & Salt ink goodies! See below... and check back soon for more!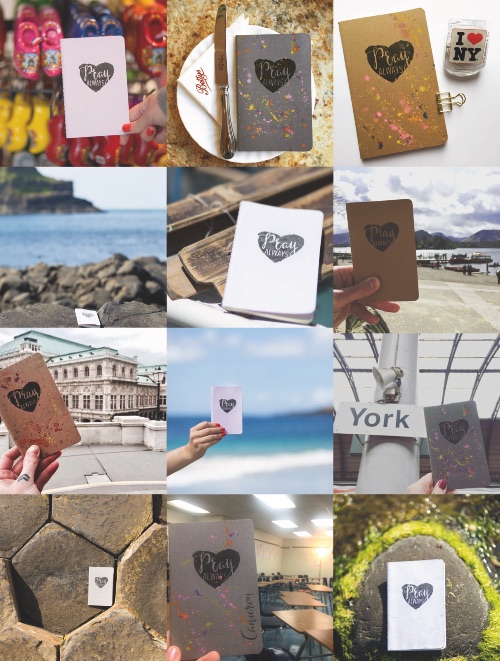 PPJ Around the world
Prayer has always been a central focus at G&Si - it's why each inkDori comes with a Prayer journal in the centre of it. The Pocket Prayer Journal (PPJ) is one of our biggest sellers and a great personalised and inexpensive little gift to encourage a friend.
We love seeing where these little journals travel to, they've gone out from my hands and prayers to six out of seven continents so far!
Post a picture of your PPJ with the hashtag #ppj_aroundtheworld and you could have your image reposted on the GSi Instagram feed or website and you could even win yourself an inkDori.
If you don't have one yet, we're currently offering 25% off with the code "PPJchallenge"!
inkDori in the wild
Just as the PPJs get around, so do our inkDori! It is great seeing pictures of them being loved in their new homes after all the love and prayers we put in as we make them. Post a picture of your inkDori with the hashtag #inkDoriInTheWild to share your own story!
And if you check Instagram for the hashtag #inkDoriInTheWild you'll see a lot of picture of coffee shop escapes!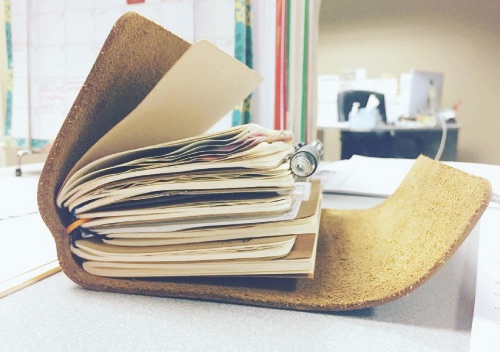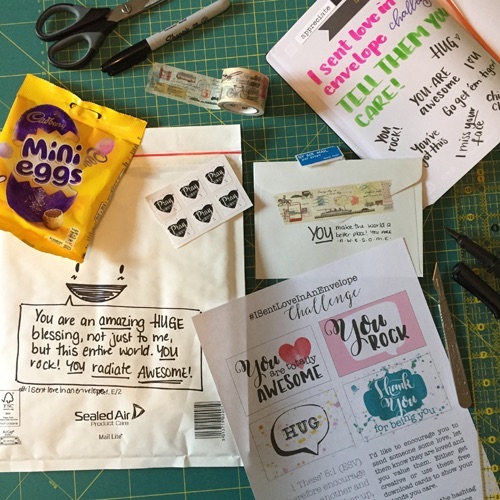 I sent love in an envelope challenge
"Therefore encourage one another and build one another up, just as you are doing." 1 Thess' 5:1 (ESV)
There's so much depressing news around at the moment - let's take time to encourage each other more! Send someone some happy mail this week so they know they are valued.
You can find a pretty greetings card, get creative with your paints, markers and washi tape, check the shop for our range of encouraging postcards and stickers, or you can use the FREE downloadable printable with encouraging phrases we put together for this challenge.
Post a photo of your encouraging envelope [NOT including anyones address!] before you put it in the mail, with the hashtag #ISentLoveInAnEnvelope for a chance to win some happy mail from us! :)
"...one another" lettering challenge
14 day lettering challenge, starting June 1st - practice your hand lettering skills whilst focusing on great verses from the new testament around the theme of "one another". Lots of positive verses from Jesus about how we should be acting towards each other... See below for daily prompts list, letter it out either by hand or with the help of a computer and post it to social media with the hashtag "#oneanotherlettered" for a chance to be reposted on the Grace & Salt ink instagram fee!
Day 1 - Hebrews 10:24 - stir up

Day 2 - 1 Thes' 5:11 - encourage
Day 3 - Mark 9:50 - be at peace with
Day 4 - Ephesians 4:32 - forgive
Day 5 - Romans 15:7 - welcome
Day 6 - John 13: 34-35 - love
Day 7 - 2 Cor' 13:11 - comfort
Day 8 - Colossians 3:13 - bear with
Day 9 - 1 Thes' 5:15 - be good to
Day 10 - Hebrews 3:13 - exhort
Day 11 - Romans 12:10 - out do
Day 12 - Galatians 5:13 - serve
Day 13 - Ephesians 4:32 - be kind
Day 14 - 1 Thes' 3:12 - abound in love for